Karvy Stock Broking's Online Trading Platform & Tools
Karvy Research and Advice / Trading Tips
Research and Advice / Trading Tips
Karvy Trading PlatForm
Trading PlatForm
Karvy Nest Web- Karvy Stock Broking Browser based Trading Platform
Access the markets from anywhere without having to download and install. This is the light and adaptable web based platform which works on any web browser, no need to install or download anything. It provides convenience to trade anywhere on mobiles, laptop and tablet. Using this platform trader can place, modify, or cancel orders, view order book, trade book, intraday book and back office reports and real time news.
Why Karvy Nest Web?
User friendly and highly advanced web platform.
Smart analysis and research recommendations.
Secured and real time access to trading in securities.
Allows trading on mobile, laptop, tablet, etc.
Features Karvy Nest Web
Market Picture: View the Best Five Buy rate and Sell rates, Total buy order quantity, Total sell order quantity, etc.
Ticker: Can view prices of the securities you are interested on a real time basis.
Quote:Personalized stock investment ideas and better understanding of stock markets.
Trade Book:Displays executed trades for all the scrips. Allows you to do Position Conversion from Intraday to Delivery and vice versa.
Position Window:View consolidated position and also all vital information like net position, buy quantity, sell quantity, sell amount etc.
Intraday Charts:Displays Intraday movement of index and scrips.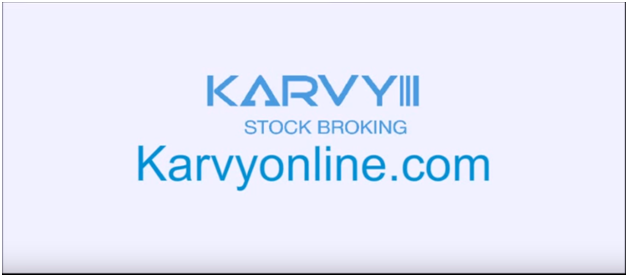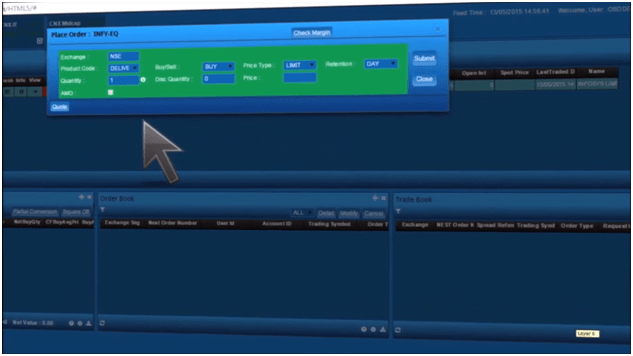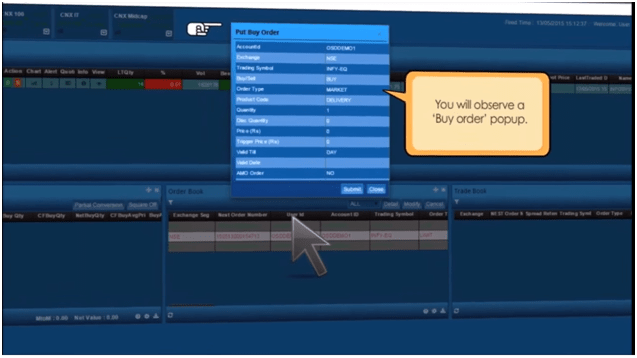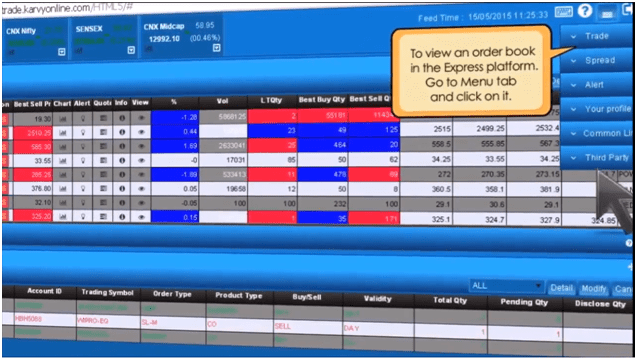 Karvy Online-Karvy Stock Broking Mobile Trading App
The most convenient and easiest way to trade on the go via Mobile App.With KarvyOnline App, buy and sell stocks at ease. You can have complete charge of all your trading in equity, derivatives and currency segments of NSE, BSE and MSEI stock exchanges with this online investment app. Get access to all stock market news with this app.
Why Karvy Online?
Live Markets: The trading app helps you to stay in tune with the share market all the time.
Market Movers: The top 50 gainers and top 50 losers in the market are shown.
Bulk-Block deals: View bulk and block deals of the last trading day which includes client name, quantity bought or sold and the price at which the transaction took place.
Scanner: A comprehensive analysis that provides the list of stocks that have moved up or down with high volume.
Research Reports: This online trading app offers extensive research reports backed by experts. View Technical, Fundamental, Daily, Weekly, Monthly and Special reports as well.
Strategies: Get to view the bullish and bearish calls.
Portfolio: You can monitor your holdings anytime from anywhere. Know the share quantity you hold.
Trade: You can buy or sell the selected stock.
Limits: Know your total balance, utilized amount and available balance.
Fund Transfer: You can transfer funds.
Order book: View all orders- open, trigger pending, complete, rejected, AMO and cancelled orders.
Trade book: View all completed or executed orders.
Watch List: You can add or delete symbols to the watch list and be updated with various information of the symbols like Last price, Change, Change%, High and Low, Open and Close.
Corporate Action: Stay updated with corporate action of companies like dividend, stock split, rights issue, etc.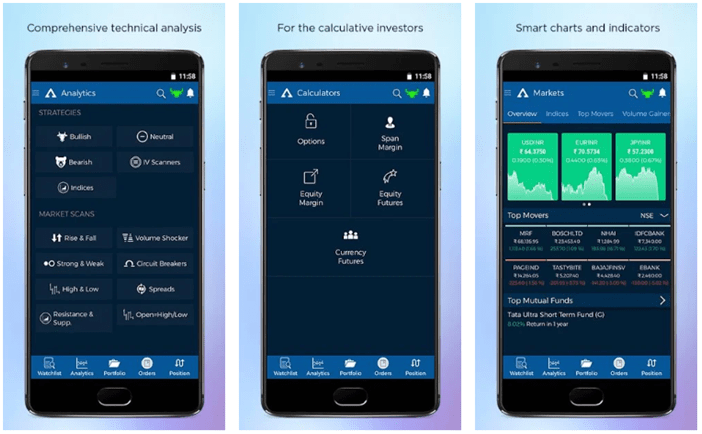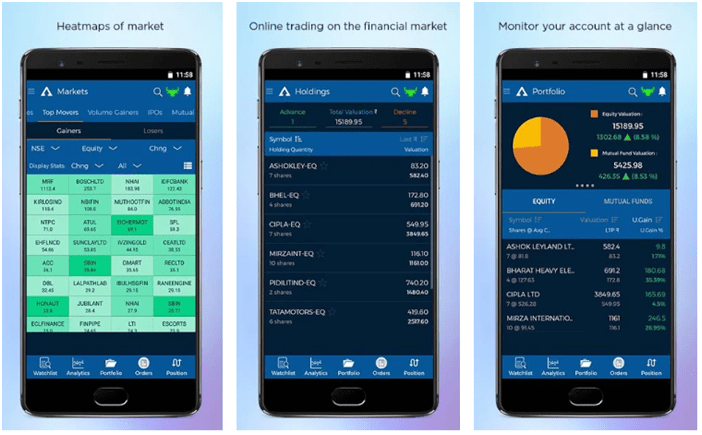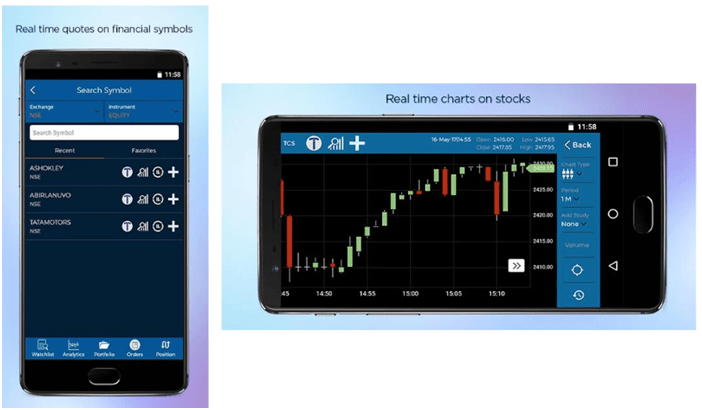 Karvy Nest- Karvy Stock Broking Terminal Based Trading Platform
Why Karvy Nest?
Advanced Charts: Our Desktop application provides more than 64 Technical indicators in a single scrip
In-depth Analysis of Scrips: Get detailed price movements of scrips to take the best investment moves
Portfolio in detail: View your positions any moment
Features
Market data: You can look at all market statistics of stocks
Market Watch Groups: Track your favourite list of stocks by creating market watch groups
Place buy/sell orders: Trade by placing buy/sell order as per your choice
Orders: You can view open orders, traded orders, rejected orders, etc
Limits: Know the available cash margin and the margins utilized for the orders
Reports: Order report, trade report, back office and DP reports
Add-on tools: Set alerts and triggers to keep track of index and stocks.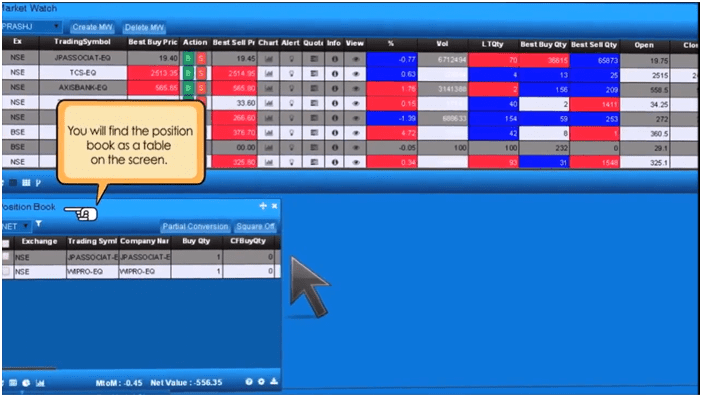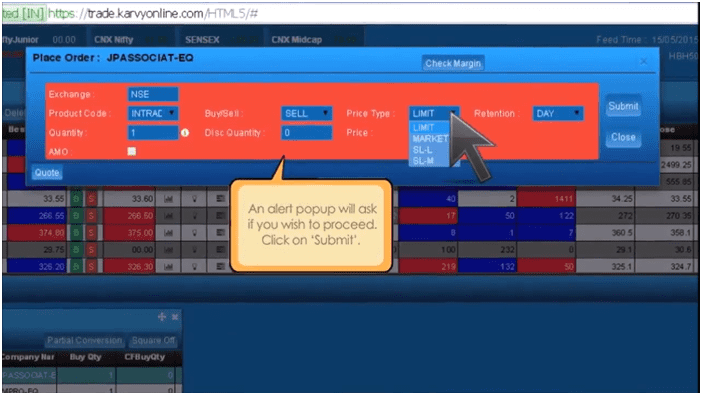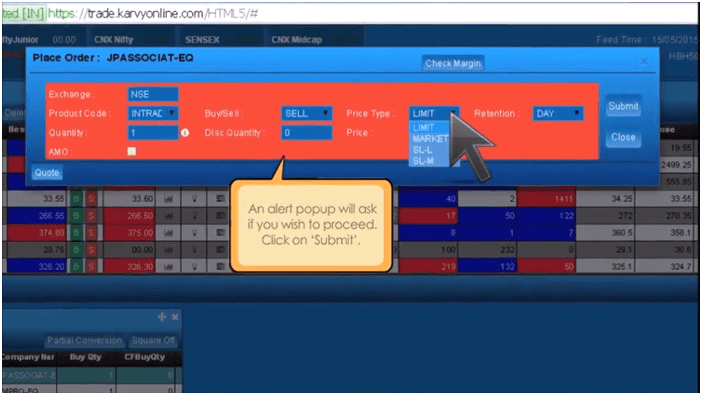 Thematic basket:
Thematic basket is the best stock portfolio with upto 20 stocks replicating a theme or market trend. Based on thematic strategy, Karvy offer a large collection of customizable baskets with theme funds to enable you with easy thematic investing. The baskets can hold between 2 and 20 theme stocks with adjustable weightage to balance the funds.
Why Thematic basket:
Diversification: Since the theme funds are from different sectors and industries, you can invest in several stocks, mitigate the risk and avail the benefit of diversification.
Tracking: You can easily track the growth of the basket and see its performance.
Thematic: By investing in a theme portfolio of companies, you get the right amount of exposure to the current market trends and themes with minimal risk.
Rebalancing: Every basket is updated quarterly to keep it balanced while continuing to reflect the basic theme.
EXPERT ASSISTANCE TRADE:
Expert assistance trade is offline trading of equity, physical commodity trading and trading of other asset classes with the market expert's assistance. Market experts constantly watch the market movements, understand the trends and assist you in taking the best investment decisions.
Features:
Ask the Expert: Expert research analysts resolve all trade related queries
Advisory Desk: Customised advice for balanced portfolio and assistance in trade
Live Chat: Chat sessions with experts and service desk for trading support, the same is also available over Whatsapp or Skype
Online Support Desk: One stop solution for queries related to equity trading and trading platforms
Trade via SMS: Place trade orders by sending to 9225592255
Call N Trade: Place trade orders by calling our toll free number 1800 419 8283