5paisa Ultra Trader Pack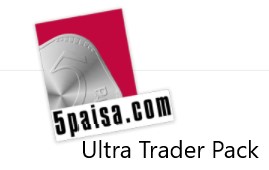 5paisa has recently launched 2 new Add-on-packs for its clients. The first one is the Power Investor Pack where you are going to get lower brokerage charges & free research services by paying monthly subscription fees of Rs.369. The second one is Ultra Trader Pack where you are going to get all the benefits of the Power investor pack along with Free First 101 Trades every month, Intraday exposure of 4X in options, Higher intraday exposure in cash segment, Free Call & Trade Facility and no Funds Transfer charges by paying monthly subscription fees Rs.738
Special Offer:
Brokerage free equity delivery trading + Flat ₹20 Intra-day and F&O trades.
Get the offer
Key Features of 5paisa Ultra Trader Pack:
A flat fee of ₹10/executed order (50% discount)
No Funds Transfer charges
Free Call & Trade
No DP Txn Charges
Brokerage free First 101 trades every month
Intraday exposure of 4X in options
Higher intraday exposure in the cash segment
Free Subscription of 5paisa Swing Trader worth Rs.1600 per month, where you can get Stock ideas for intraday and short term trading
Free Subscription of "Smart Investor" worth Rs.1600 per month, where you can get Long term investment ideas
Advanced Portfolio Analytics. Compare your portfolio performance with benchmark indices, sectoral concentration, and much more
Free model portfolio and list of hot stocks
Get Extensive research on over 4000 stock
Get Market evaluation
Daily Market Outlook
Track your Portfolio, Create a benchmark
5paisa Ultra Trader Pack Brokerage Charges:
Power Investor Pack is useful for investor who wants to avail the research support, Short term trading ideas, Long term investment ideas and have High level of trading in a month.
| | |
| --- | --- |
| EQ Delivery | Flat ₹10 per executed |
| EQ Intraday | Flat ₹10 per executed |
| EQ Futures | Flat ₹10 per executed |
| EQ Options | ₹10/ Lot |
| CUR Futures | Flat ₹10 per executed |
| CUR Options | ₹10/ Lot |
| Commodity Trading | Flat ₹10 per executed |
5paisa Ultra Trader Pack Value Added Services
| | |
| --- | --- |
| Research Report | Yes |
| Intra-day calls | Yes |
| Long Term Investment ideas | Yes |
| Access to Smart Investor | Free of Cost |
| Access to Swing Trader | Free of Cost |
| Free Trades | First 101 Trades |
| Call & Trade | ₹100 per Call |
| Monthly subscription | ₹738+18% GST |
| DP Charges | Free |
| Pay In Charges | Free |
| Portfolio Analyzer | Yes |
| Options writing exposure | 4X in options |
5paisa Ultra Trader Pack-Other charges:
| | |
| --- | --- |
| DP transaction charge Debit | Free |
| Delayed Payment Interest | 0.06% interest per day (21.90% p.a.). |
| Call & Trade Charges | Free |
| Pay-in Charges | Free |
| Pledge Creation for funding | ₹25 per scrip |
| Pledge Creation for Margin | ₹15 per scrip |
| Unpledge | ₹12.5 er scrip |
| Reconversion of MF units to SOA or redemption/restatement per SOA | ₹15 |
| Demat Charges | ₹15 |
| Remat Charges | ₹15 per certificate or ₹100 Units/Share (Whichever is lower) |
| Conversion of MF Units Re-issuance of (Additional) New DIS | ₹15 |
| Postal Charges for physical dispatch | ₹40 |