Axis Direct NRI Trading Review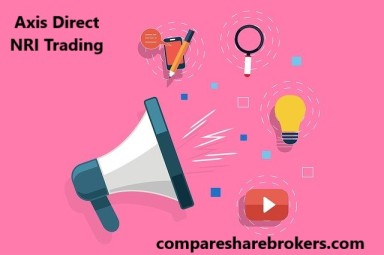 Axis Securities Limited (ASL) is a subsidiary company of Axis Bank Ltd. engaging in the distribution of a wide range of financial solutions and broking services to retail customers. Customers can avail a wide range of lending solutions. Axis Direct offers unique features called 4-in-1 accounts which is a combination of a PIS & Non-PIS Bank Account, Trading Account, and Demat Account. Axis Bank offers 4 in 1 Investment Account which has multiple investment options such as equities, derivatives, IPOs, mutual funds, and ETFs.Axis Bank has also made it possible to make the investment through phone calls. One of the key features of this is being able to access independent and third-party research.
Axis Direct provides a simple and efficient way to invest in the stock market and other financial instruments via convenient–interlinked Demat, Savings, and Broking account, here Instead of transferring monies to a broker's pool or towards deposits, you can manage your own Demat and bank accounts when you trade through Axis Direct.
Axis Direct NRI brokerage charges for Equity delivery trades is 0.75% (Minimum Brokerage Rs 50 or 2.5%) of the turnover, 0.05% of the turnover for Equity Futures trades and 1 paisa/lot for intraday and Rs 10 / lot on carry forward position for Equity Options trade.
Why Axis Direct for NRI Trading?
Offers online Mutual Fund, IPO and NCD services
Get expert recommendations and consensus estimates from AxisDirect as well as global research providers like Reuters.
Transact in mutual funds offered by leading AMCs in India with AxisDirect through the internet or phone.
With AxisDirect you can apply into primary markets quickly and effortlessly by using either ASBA or Non-ASBA facility.
Offers online Mutual Fund, IPO and NCD services.
Access to Trade-Passport, a detachable and secure Order Entry Panel, enables trading while researching on any financial website.
Offers AMO and GTC order facility.
On Phone Trade
Assistance from relationship managers
Advantage of a 4 in 1 account.
Axis Direct NRI Trading Account Advantage & Disadvantage
Positives
4-in-1 online trading account.
Security of your investment & money
Dedicated relationship managers.
Free Research services
GTC and AMO orders
Offers online Mutual Fund, IPO and NCD services.
Needs Improvement
High Brokerage charges vs its peers like Zerodha, Tradeplus.
Axis does not provide an online trading facility to USA-based NRI clients.
Installable trading terminal cost at Rs 2999 per year
Minimum brokerage charges.
Axis Direct Securities NRI Account Opening
To successfully trade in the stock markets with Axis Direct, you need a demat and a trading account, You will then have to link your savings bank account with these two accounts to seamlessly transfer funds.
Following are the steps to open an Axis Direct NRI 4-in-1 Account:
Fill out an inquiry form on Axis Directs website and a customer executive will connect you to help
You can call their Phone number 022 6148 0809 in India to request help in account opening.
If you are in India, You can also visit the nearest Axis Bank Branch for help in account opening.
You need the below documents to open the Axis Direct 4-in-1 account. Here's the Axis Direct NRI Documents list-
Photos
PAN Card
Valid Passport
Valid Visa
Valid OCI Card / PIO Card
Overseas Address Proof
NRI Status Proof - Employment, Residence, Student, etc
Note-
NRIs can trade-in the Derivative (Futures & Options) segment through NRO account only.
You can open both NRE and NRO accounts with Axis Bank. However, you can map only one of the accounts (NRE or NRO) with your Axis Direct NRI Trading account.
Mapping your NRE account with Axis Direct trading account will allow you to trade in the Equity segment whereas, by linking an NRO account, you can trade in both Equity & Derivative segment. You need to open 2 accounts to map both the bank accounts.
NRIs are allowed to trade only in equity and equity Futures & Options.
Intraday, currency and commodities trading is not allowed for NRIs.
Axis Direct NRI Trading & Demat account opening charges:
| Particulars | Charges |
| --- | --- |
| NRI Trading Account opening Charges | Rs. 2500 + 450 (GST at 18%) |
| NRI Account AMC | 0 |
| PIS Account AMC | Rs. 1500 |
*Note: NRE Equity Cash, NRO Equity Cash, and NRO F&O accounts are separate accounts
Axis Direct NRI Brokerage Charges
| Segment | Brokerage Charges |
| --- | --- |
| Equity Delivery | 0.75% (Minimum Brokerage Rs 50 or 2.5%) of the turnover |
| Equity Intraday | Not Allowed |
| Equity Future | 0.05%. |
| Equity Options | 1 paisa/lot for intraday and Rs 10 / lot on the carry-forward position |
| Currency Future | Not Allowed |
| Currency Options | Not Allowed |
| Commodity | Not Allowed |
Axis Direct NRI Customer Care: Axis Direct NRI Desk contact number
Axis Direct NRI Customer Care Number:+91 61480809(Non-Toll Free)
Axis Direct NRI Customer Care Email ID: [email protected]
The Final Thoughts about Axis Direct NRI Services
Axis Direct provides their NRI clients all the facility which make trading easy and convenient like 4-in-1 account, all kind of trading platforms, MF Investment, AMO orders, Call & Trade and Relationship Manager for quick assistance and equity research for making decision quick and informed. The only downside is Axis Direct does charge higher brokerage for its services vs its peers in the discount broking segment.