Equity Intraday Brokerage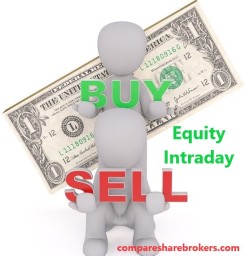 There are multiple ways in which you trade in Equity, one of the most common Trade is the equity Intraday. Equity Intraday trades refer to a trade in which buying & selling of stock happens on the same day before the close of the stock exchange. If you fail to do so, your broker may square-off your position, or convert it into a delivery trade. Intraday trading is also called day trading, which intended to make profits in a very short interval of time and does not go beyond a trading day.
Special Offer:
Brokerage free equity delivery trading + Flat ₹20 Intra-day and F&O trades.
Get the offer
The brokerage charges and the statutory charges like STT are much lower on intraday trades compared to delivery trades. This reduces the cost of intraday trading. When you buy equities for delivery, you are required to pay up 100% of the total cost upfront. On the contrary, if you designate your trade as an intraday trade, then the margin is just a portion of the full cost.
Advantages & Disadvantages of Equity Intraday Trade
Advantages of Intraday trading
It does not block your capital
You can make money in a short span of time hence it is a favorite of the trader community.
Day traders can take benefit of both rising and falling market. Day traders can do short selling to make a profit from falling stocks.
Intraday trade is simple and does not require fundamental or technical information of traded stock, you can do this trade by simply reading charts.
Possibility of Higher return and can be achieved both in Bull & bear market.
Lower Brokerage & Statutory Charges.
It does not have any form of overnight risk due to unforeseen global or local events.
Dis-advantages of Intraday Trading
You would not be entitled to dividends or other benefits such as bonuses, rights.
An individual is required to track minute by minute the market.
Higher risk.
Special Offer:
Brokerage free equity delivery trading + Flat ₹20 Intra-day and F&O trades.
Get the offer
Top 20 Stock Brokers for Equity Intraday Trades
| Rank | Top 20 Best Share Brokers | Active Clients | Equity Intraday Brokerage | A/c Op. Charges |
| --- | --- | --- | --- | --- |
| 1 | Zerodha | 6513036 | 0.03% or Rs.20/Trade whichever is lower | Rs.200 for Online and Rs 400 for Offline accounts Opening |
| 2 | Upstox (RKSV) | 5596268 | ₹20/trade or 0.05% whichever is lower | ₹150 + GST |
| 3 | Groww | 4268383 | ₹20/trade or 0.05% whichever is lower | Free |
| 4 | Angel-One | 3926697 | ₹20/trade | Free |
| 5 | ICICI Direct | 3135167 | 0.275% | Free |
| 6 | 5PAISA | 1727458 | Flat Rs.20 per executed order | Free |
| 7 | Kotak Securities | 1290410 | Free | Free |
| 8 | HDFC SECURITIES | 1156837 | 0.05% | ₹999 + GST |
| 9 | IIFL | 1139902 | Flat Rs.20 per executed order | Rs.250 + GST |
| 10 | MOTILAL OSWAL | 915264 | 0.05% | Free |
| 11 | SHAREKHAN | 757371 | 0.1% | Free |
| 12 | SBI Securities | 643626 | 0.05% | Rs.850 |
| 13 | PAYTM MONEY | 467814 | Lower of 0.05% or Rs 10 per executed order | Rs.200 |
| 14 | AXIS Direct | 417958 | 0.05% | Rs.900 |
| 15 | Market Wolf | 299954 | ₹0 brokerage if loss | 10% of the GP on profitable trade | Free |
| 16 | Choice Broking | 268212 | 0.02% | Free |
| 17 | GEOJIT FINANCIAL | 236567 | 0.03% | Rs.425 |
| 18 | EDELWEISS | 201574 | Rs.10 per executed order | Free |
| 19 | RELIGARE BROKING | 167249 | 0.050% to 0.010% | Rs. 500 |
| 20 | SMC GLOBAL | 162802 | 0.03% | Free |
Frequently Asked Questions: