Zerodha Intraday Charges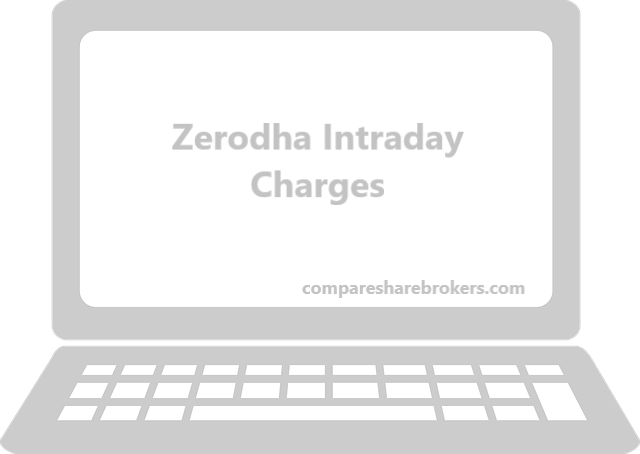 Equity Intraday trades refer to a trade in which buying & selling of stock happens on the same day before the close of the stock exchange.
Intraday trading is also called day trading, which intended to make profits in a very short interval of time and does not go beyond a trading day. The brokerage charges and the statutory charges like STT are much lower on intraday trades compared to delivery trades. This reduces the cost of intraday trading. When you buy equities for delivery, you are required to pay up 100% of the total cost upfront. On the contrary, if you designate your trade as an intraday trade, then the margin is just a portion of the full cost. Zerodha brokerage charges for Intraday are 0.03% or Rs. 20/executed order whichever is lower.
Special Offer:
Brokerage free equity delivery trading + Flat ₹20 Intra-day and F&O trades.
Get the offer
Benefits of Equity Intraday Trade
It does not block your capital
You can make money in a short span of time hence it is a favorite of the trader community.
Day traders can take benefit from both rising and falling markets. Day traders can do short selling to make a profit from falling stocks.
Intraday trade is simple and does not require fundamental or technical information of traded stock, you can do this trade by simply reading charts.
Possibility of Higher return and can be achieved both in the Bull & bear market.
Lower Brokerage & Statutory Charges.
It does not have any form of overnight risk due to unforeseen global or local events.
Zerodha Intraday Charges 2020
| Charges | Equity Intraday |
| --- | --- |
| Brokerage | 0.03% or Rs.20/Trade whichever is lower |
| STT | 0.025% On the Sell-side |
| Transaction / Turnover charges | NSE : 0.00325%, BSE Rs. 1 each on buy trade & sell trade |
| SEBI Charges | 15 Rs/Crore |
| GST | 18% on (Brokerage + Transaction Charges) |
| Stamp Duty | 0.003% or ₹300 / crore on buy-side |
Special Offer:
Brokerage free equity delivery trading + Flat ₹20 Intra-day and F&O trades.
Get the offer
Zerodha Equity Intraday Leverage 2020
NSE/BSE Equity: Zerodha has a policy of giving up to 20 times exposure basis traded stock, no margin is given for delivery trades. with the given exposure you can trade 20time more than what money available in your trading account, for example, if you have 10000 in your trading account then you can do intraday trade worth 10000*20=Rs.200000.
| Type | Trade |
| --- | --- |
| Equity Intraday Leverage | Up to 20x |