Fund transfer to Zerodha using UPI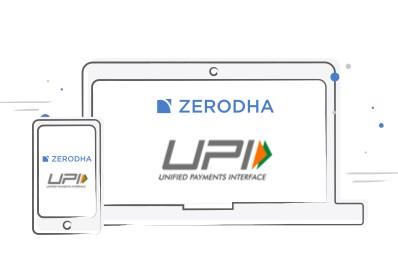 National Payment Corporation of India (NPCI) has developed an instant payment system built over existing IMPS infrastructure called UPI or Unified Payments Interface. This allows you to instantly transfer funds between any two parties' bank accounts.UPI transfers can be used from any bank account. You can transfer a maximum of Rs. 1 lakh per day using UPI.
Advantage of UPI fund transfer
UPI is free for all peer to peer transactions
No Need to add Payee in your bank account
Payment can be done via QR code scan
Instant Fund transfer up to Rs.1 Lacs
Special Offer:
Brokerage free equity delivery trading + Flat ₹20 Intra-day and F&O trades.
Get the offer
How to Transfer funds using UPI to Zerodha Trading account
You need to use Zerodha Kite for the transfer of funds. Please also note that the UPI ID you created should be with the same bank that you have mapped to your Zerodha trading account. you need to follow the below-mentioned steps to transfer funds using UPI
Go to the 'Funds' page on Kite and click on 'Add Funds'.
Select UPI as the payment mode in the window.
Once you select the UPI option, you'll see a field to enter your UPI ID. Make sure the UPI ID is mapped to a bank account that you have mapped with your Zerodha account for the transfer to go through successfully.
Enter your UPI ID and the amount you want to transfer and click on continue. Once you click on the "Continue" button, you'll see the next page that will ask you to "Go on the UPI app on your phone".
Go to the UPI app on your phone, you'll receive a collect request from Zerodha. Approve the request here. This will require you to enter your UPI PIN on the next step. Enter the UPI PIN that you receive on your mobile phone
Once that's done, you'll see a confirmation on the Zerodha payment page confirming the success of the fund's transfer
Complete the transfer by clicking on the 'Close' button