Top 10 Commodity Brokers in India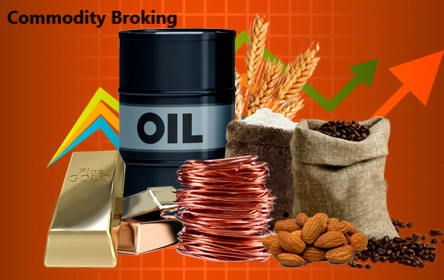 Commodity Broker is a corporate, Firm or individual who facilitates commodity contracts on behalf of their clients for commission. Commodity contracts include futures, options.MCX (Multi-Commodity Exchange) and NCDEX (National Commodity and Derivative Exchange) are the two major exchanges that offer commodities trading in India
Due to very high volatility in commodity prices, it is high risk and High reward trades. It is of utmost importance that we executed these trades with proper care and with reliable commodity brokers. While selecting a commodity broker you need to keep certain points in mind as mentioned below :
Which commodity exchange the broker is associated with like MCX, NCDEX.
How many clients does he have, which would give a fair idea of its popularity and customers' experience?
Cost of trade: It is important that we choose a broker who provides the best experience at reasonable broking charges.
Provides the best of the trading platform, you can check this reading reviews about their trading and mobile platforms.
Availability of customer service options like live chat, 24/7 support, email, phone, etc.
Special Offer:
Brokerage free equity delivery trading + Flat ₹20 Intra-day and F&O trades.
Get the offer
To make your work a little easy, below is the list of the Top 10 commodity brokers and their broking and account opening charges
Top Commodity Brokers in India 2022
| Rank | Commodity Broker | Active Clients | Commodity Brokerage Charges | A/c Op. Charges |
| --- | --- | --- | --- | --- |
| 1 | Angel One | 3810507 | Flat ₹20 per executed order | Free |
| 2 | Zerodha | 1085075 | ₹20/trade or 0.03% whichever is lower | ₹200 + GST |
| 3 | Market Wolf | 422310 | ₹0 brokerage if loss | 10% of the GP on profitable trade | Free |
| 4 | Upstox | 408018 | ₹20 per executed order or 0.05% (whichever is lower) | Free |
| 5 | IIFL | 378209 | 0.025% | Free |
| 6 | Alice Blue | 296714 | Flat Rs.20 per executed order | Free |
| 7 | Kotak Securities | 278681 | C/F: Rs 20 per order; Intraday: Free | Free |
| 8 | 5PAISA | 263951 | Flat ₹20 per executed order | ₹300 + GST |
| 9 | MOTILAL OSWAL | 249793 | 0.05% (both side) | Free |
| 10 | Fyers | 205072 | Flat Rs.20 per executed order | Free |
Frequently Asked Questions:
Below is the list of best commodity brokers in India

| Rank | Commodity Broker | Active Clients 2020 | Brokerage Charges | A/c Opening Charges |
| --- | --- | --- | --- | --- |
| 1 | Angel One | 834962 | Flat ₹20 per executed order | Free |
| 2 | Zerodha | 644376 | ₹20/trade or 0.03% whichever is lower | ₹200 + GST |
| 3 | Upstox | 373870 | ₹20 per executed order or 0.05% (whichever is lower) | Free |
| 4 | MOTILAL OSWAL | 177765 | 0.05% (both side) | Free |
| 5 | IIFL | 136670 | 0.025% | Free |

Please find below the list of cheapest commodity brokerage firms in India

| Rank | Commodity Broker | Active Clients 2020 | Brokerage Charges | A/c Opening Charges |
| --- | --- | --- | --- | --- |
| 1 | Goodwill | 130819 | ₹11/ Executed order | ₹299+ GST |
| 2 | Angel One | 834962 | Flat ₹20 per executed order | Free |
| 3 | Zerodha | 644376 | ₹20/trade or 0.03% whichever is lower | ₹200 + GST |
| 4 | Upstox | 373870 | ₹20 per executed order or 0.05% (whichever is lower) | Free |
| 5 | Alice Blue | 106758 | Flat ₹20 per executed order | Free |
| 6 | 5PAISA | 96067 | Flat ₹20 per executed order | ₹300 + GST |