Best 3-in-1 NRI Trading Account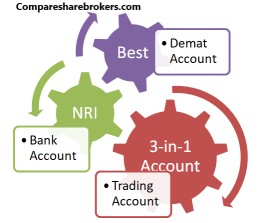 3-in-1 NRI account is more than a brokerage account. It offers you a unique 3-in-1 feature, which integrates your NRI Brokerage Account, NRI Bank Accounts (NRE or NRO), and one or more NRI Demat accounts. This means that you can buy and sell shares without any hassles of settlements. Transfers of shares from/to your Demat account and transfer of money from/to your Bank account take place automatically with no paperwork. Some Brokers offers these accounts as 4-in-1 accounts as it includes 2 bank accounts; NRE and NRO for repatriable and non-repatriable investments.
3-in-1 NRI account is normally offered by banks who are in the stockbroking field as well like ICICI, HDFC, Axis, SBI, etc.
Other Brokers (full-service and discount stock) normally offer NRI 2-in-1 account (trading + demat account). Some of them also have tie-ups with certain banks wherein they help you open bank accounts and link them to their trading and demat accounts.
3-in-1 NRI account Advantage & Disadvantage
Advantage
Funds credited directly into the bank account linked with NRI Trading Account, No need to transfer from Brokers account to yours
Sense of Security as the money gets credited in your Bank account directly and trust of Banks is added advantage.
Detailed audit trail and complete record with a timestamp of all orders
As the money credited in your account or kept in your Bank account only, you would get an additional benefit of earning Interest on the lying money in your account.
Easy online investment across a wide range of products i.e. Stock Market, Bank FD, Corporate FD, Bonds, Insurance, SIP, Mutual Funds, etc
Faster execution of Trade vs 2-in-1 Account, where you need to transfer money from bank to trading account which may take time.
Disadvantage
The NRI 3-in-1 account charges (brokerage, AMC) are higher in comparison to brokers offering 2-in-1
Best 3-in-1 Demat Account for NRI
| Broker | Active Clients | Brokerage | A/c Op.Fees |
| --- | --- | --- | --- |
| ICICI Direct | 1580233 | 0.5% to 1.25% depending on Trading Volume (1.25% for up to 5L Per month Turnover) | The non-UK client is ₹4000/- and for UK client's is ₹6500/- |
| HDFC Securities | 957085 | 0.75% or min ₹25 or ceiling of 2.5% on transaction value (Both Buy & Sell) | ₹999 |
| Kotak Securities | 743206 | 1% of the turnover OR 25 Paise per share, whichever is higher | ₹3750 |
| Axis Direct | 454882 | 0.75% | ₹2500 |
| SBICAP Securities | 329099 | 0.75% | ₹2000 |
| IDBI Capital | 50510 | 0.50% | ₹1500 |