Difference Between Demat Account and Trading Account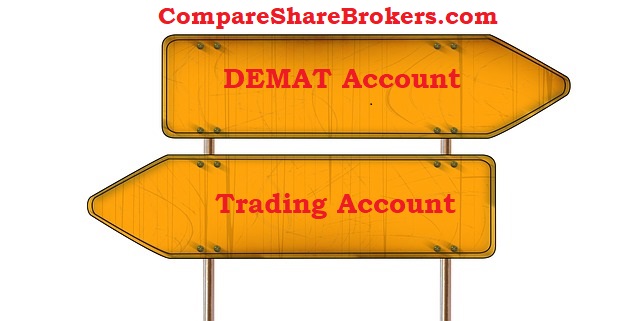 The main difference between a Demat and a Trading account is that a Demat account is used for holding your securities such as your share certificates, bonds, debentures, and other documents in electronically whereas a Trading account is used for trading (buying and selling ) in these securities in the share market.
What is a Demat Account?
A Demat account is a medium which enables people to convert and hold share certificate in electronic mode. A Demat account helps you with document-free trade and transfer transactions. A Demat account keeps all the shares that you purchase in an electronic or dematerialized form. Demat Account works in a similar way to your bank account which holds your money in electronic form, a Demat keep your financial instruments like shares, bonds, government securities, mutual funds, and exchange-traded funds (ETFs) in an electronic form.
What is a Trading Account?
To start your Stock trading activity (Buying & Selling of securities) you need a trading account.
A trading account works as an interface between your Demat account and the stock market. Meaning, if you want to buy or sell any shares, then you can place the order using your trading account. The shares that you purchase would get stored into your Demat account and similarly, the sold share would get transferred to the buyer.
this account, you open with a stockbroker who is a member of NSE / BSE or any other exchange. To trade in the stock market, along with trading & Demat account you should also have a bank account so that proceeds from the trading activity can be transferred to your bank account.
Below table would explain you the key difference between Trading & Demat account
| | | |
| --- | --- | --- |
| Basis | DEMAT ACCOUNT | TRADING ACCOUNT |
| Nature | Demat account is an account that allows the account holder (investor) to keep shares and securities in an electronic form. | By Using the trading account you can place order for trading in securities in stock exchange. |
| Approval of SEBI and NSDL/CDSL for opening account | Mandatory | Not required |
| Functionality | The account is used for holding securities and not for transaction purposes. | The account is mainly used for the purposes of the transaction of securities. |
| Role | When you use your trading account to buy the shares of a company, money is debited from your bank account and the shares are credited to your demat account. | When you sell shares through the trading account, the shares are debited from your demat account and are sold in the market. The proceedings from the sale are then credited to your bank account. |
| Annual Maintenance Charges | An annual maintenance charge is levied by the Depository Participant with whom you have opened your Demat account. | It is not necessary |
| Required for | Demat account is only required if you want to hold shares in demat form. So, if you have opened a trading account and only intend to trade in futures and options (derivatives) then demat account is not essential as futures and options in India are cash settled and do not result in delivery. | If you want to trade (buy & Sell) in the stock market this is must irrespective of the segment like cash segment, derivative segment, Intraday. |