Free Demat Account for Life, Zero Demat AMC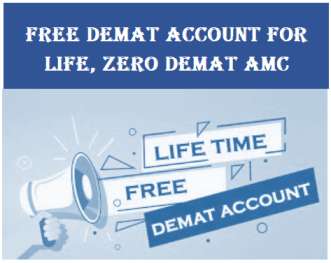 One needs a savings account to keep their money secure and carry on financial transactions safely like money transfer, paying bills, shopping, and many more. A Demat account acts as a savings account used to keep financial securities like shares, mutual funds, bonds, IPOs, and other financial securities safe.
An individual willing to invest money in the stock market needs a Demat + Trading account to carry on the financial securities transactions.
Certain stockbrokers offer either 2-in-1 accounts — Demat + Trading account or 3-in-1 account — Savings + Demat + Trading accounts. Demat account is used to keep financial securities such as mutual funds, bonds, shares and much more secure electronically. At the same time, the trading account is used to carry on the transactions of buying and selling financial securities in the stock market.
Stockbrokers levy an Annual Maintenance Charge (AMC) to the Demat account holder to maintain the account; the fees may vary. However, certain stockbrokers offer one-time lifetime AMC fees or zero annual charge Demat accounts to attract more investors. Lifetime free Demat account stockbrokers often charge the nominal refundable deposit amount.
Top 5 Brokers offering lifetime free Demat account with zero maintenance charges
Groww

Groww is one of India's fastest-growing platforms and undoubtedly the best platform for brokerage-free Direct mutual funds investment. They have a strong customer base of 10+ Million users as of Aug 2021. It is also one of the highest-rated App (4.6+) in the Google Play Store and App Store.

Groww is known in the industry for its low-cost brokerage and Zero account opening charges and AMC charges, they offer completely free Demat account, No one time charges and No Annual Maintenance Charges. Groww has a simple pricing structure. They offer equity delivery trades and Intraday trades at a brokerage of 0.05% or ₹20/trade whichever is lower

Paytm Money

After successfully making Paytm one of India's fastest-growing digital payment methods, One97 Communication Limited launched Paytm Money, an online broker company, in 2017 offering investment services in mutual funds, digital golds, stocks, and IPO NPS, derivatives, NPS, and stocks. Paytm Money is a member of SEBI registered broker, depository participant — CDSL, NSE and BSE.

Paytm Money primarily aims to introduce Indians to easy wealth management, risk-free, and accessible to all in the digital era. Thus, Paytm Money doesn't offer any risky product to its investors.

Trading on Paytm Money is secured and safe with the highest bank-level security that protects the investor's transactions and data from any unknown access. In addition, Paytm Money offers two-factor authentication with the added security of pin-based features and fingerprint scanning.

Paytm Money is associated with Paytm digital payment and doesn't offer any extra accounts. Registration in Paytm Money is free without any additional annual maintenance charges.

Prostocks

Prostocks has been a Mumbai-based discounted stockbroking company since 2016, offering equity, currency, and derivatives trading with depository services. Prostocks is popular among numerous investors for its unlimited plan for currency derivatives for INR 499 monthly and INR 899 for derivatives and equity trading.

Prostocks are the cheapest stockbroking offering unlimited plans in the market. Per executed orders, the investors need to pay INR 15 irrespective of the order size.

Prostocks offers nil charges for opening a 2-in-1 Demat and Trading account with zero costs of annual maintenance service (AMC). However, PRostocks charge depository fees of INR 1000 for a free lifetime Demat account, and the amount is refundable when the investor closes the account in the future.

Finvasia

Finvasia has been a Chandigarh-based discount stockbroking company since 2016, offering a wide range of investment services to their investors in India and 14 foreign countries globally. Finvasia offers investors commodity and currency, investment banking, equity, currency hedging, and asset management. In addition, Finvasia plans to provide its investors a depository and learning service with margin funding soon.

Finvasia offers free 2-in-1 Demat + trading accounts to individuals with lifetime free annual maintenance charges and nil brokerage on trading services across the segment on MCX, BSE, and NSE. Finvasia also offers a nil clearing fee, but the investor needs to pay exchange transaction fees, software charges (starting from INR 49 per month), and taxes.

Finvasia is suitable for those with experience in stockbroking as it offers do-it-yourself online stock trading with minimal support from the broker.

Ventura

Ventura is a Mumbai-based full-service stockbroker established in 1994 provides broking, advisory and research services to the foreign and domestic investors. Ventura has over 500 franchises and sub-brokers with over 30 branches located in around 300 cities in India.

Ventura provides 2-in-1 accounts — Demat + Trading accounts with zero charges account opening and lifetime free AMC to their customers, allowing them to trade and invest in commodities, currency futures, mutual funds, FDs, equity, and equity derivatives.

Ventura also offers a commodity trading account, allowing investors to invest in physical items such as agricultural products, gold, silver, metal, oil, and many more. In addition, Ventura also offers mutual funds and equity investments for FIs (Foreign Investors), PIO (Person of Indian Origins), and NRIs (Non-Resident Indians) via a dedicated NRI Service Cell.

Though Ventura is offering a free Demat and nil annual maintenance charge, the investor needs to pay a minimum of INR 1000 for software access charges which will be refunded within a year against the brokerage the investor generates.

The Pointer software charges differ based on the availability of the brokerage charges. For instance, INR 1000 software charges offer 0.45% delivery brokerage, valid for a year. On the other hand, INR 10,000 software charges offer 0.15% delivery brokerage, valid for six months.

RMoney

Raghunandan Money, an Agra-based stockbroking company since 2004 famously known as Rmoney, offers a wide range of financial security products that include mutual funds, online stock trading, bonds, insurance, commodity broking, and IPOs. RMoney is ranked in the top 5 in India among commodity brokers. RMoney offers a 2-in-1 lifetime free Demat + Trading account in two plans:

Discount Broker Plan for the investors who know the market well and minimal assistance from the experts, and
Happy Service Plan is a full-service plan for new investors in the trading industry who need expert help.

In addition to a free Demat account, RMoney offers free AMC (annual maintenance charge) of the account, and there are nil brokerage charges for equity delivery. On the other hand, the investor needs to pay a flat fee per trade brokerage of INR 18 for all other segments.

RMoney also provides free trading software (mobile app, web, and desktop app) with unlimited free call and trade with dedicated dealers for investor trading needs.
Special Offer:
Brokerage free equity delivery trading + Flat ₹20 Intra-day and F&O trades.
Get the offer
Top 5 brokers with Life time Free Demat Account offer
To make your work a little easy, below is the list of the Top 5 Brokers who are offering life time free Demat account along with account opening charges if any in tabular form:
| Name of Broker | Demat Account Opening Charges | Demat Account AMC |
| --- | --- | --- |
| Groww | Rs 0 (Free) | Rs 0 (Lifetime Free) |
| Paytm Money | Rs 0 (Free) | Rs 0 (Lifetime Free) |
| Prostocks | Rs 0 (Free) | Rs 0 (Lifetime Free) |
| Finvasia | Rs 0 (Free) | Rs 0 (Lifetime Free) |
| Ventura | Rs 0 (Free) | Rs 0 (Lifetime Free) |
| RMoney | Rs 0 (Free) | Rs 0 (Lifetime Free) |
Special Offer:
Brokerage free equity delivery trading + Flat ₹20 Intra-day and F&O trades.
Get the offer
Conclusion
With the ever-increasing challenges and competition in the broking industry, leveraging advanced technology and the fastest network, many companies have started attracting customers with the free Demat account opening and zero annual maintenance charges (AMC). Therefore, individuals should learn to trade and start investing with the minimum investment.

Though investing in the market has its own risk, it is advisable to contact a financial expert before trading.