IIFL Zero Brokerage Plan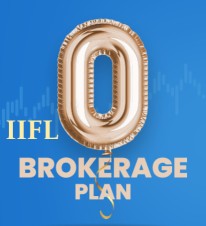 India Infoline is one of the experienced financial service conglomerates which was established in the year, 1995. They are among the first financial broker who entered the market with the discount service brokerage by the name of 5paisa.com.IIFL is a full-service broker and provides high-quality research and other financial data to investors.
IIFL has recently launched a Zero brokerage plan to counter discount brokerage firms. Zero Brokerage plan by IIFL provides Free delivery trades, Equity intraday, and futures trade at ₹20 or 0.05% whichever is lower, Commodity & Equity options trade at Flat ₹ 20 per lot.
IIFL Zero Brokerage Plan provides the benefits offered by the full-service broker like access to research reports and Intraday calls at a cost similar or lower than the discount brokers. This plan is a flat fee brokerage plan and would be suitable for the Trader community & other investors who can trade on their own and does not needs other services like the services of a dedicated Relationship Manager along with Trader terminal, participation in events, or Seminars organized by them. This plan does not have any monthly or yearly subscription charges
Key Features of IIFL Super Trader Plan (Pro Traders) Brokerage Plan:
Free Delivery Trade
₹20 or 0.05% whichever is lower for Intraday & Future Trade
Flat ₹20 per lot for Equity Options Trade & Commodity Options Trade
Research reports
Intraday Calls
No Minimum Margin requirement
No Monthly or Yearly Subscription Charges
IIFL Account Opening Charges | IIFL AMC 2021
IIFL charges Rs. 295 for trading and Demat account opening which is the one-time fee charged while initiating your account opening process. Rs. 250 (Free for the first year) are annual maintenance charges and would get deducted from your account even if you have not traded for a year by IIFL to maintain your account.
| Type | Account Opening (One Time) | Annual Maintenance Fees (Yearly) |
| --- | --- | --- |
| IIFL Trading Account | Rs.295 account Opening | NIL |
| IIFL Demat Account | Rs.0 | Rs. 250 (Free for the first year) |
IIFL Zero Brokerage Plan Brokerage Charges:
This plan is the cheapest plan offered by IIFL suitable for traders & investor who can trade online and does not need services of dedicated RM.
| | |
| --- | --- |
| EQ Delivery | Free |
| EQ Intraday | ₹20 or 0.05% whichever is lower |
| EQ Futures | ₹20 or 0.05% whichever is lower |
| EQ Options | ₹20/ Lot |
| CUR Futures | ₹20 or 0.05% whichever is lower |
| CUR Options | ₹20/ Lot |
| Commodity Trading | ₹20 |
IIFL Zero Brokerage Plan Value Added Services
| | |
| --- | --- |
| Research Report | Yes |
| Intra-day calls | Yes |
| Dedicated RM/ Advisor | No |
| Market Guru seminars | No |
| Trader Terminal EXE | No |
| Analyst/ Investment advisor meetings | No |
| Minimum Margin | ₹0 |
| Monthly subscription | ₹0 |
IIFL Zero Brokerage Plan-Other charges:
| | |
| --- | --- |
| DP transaction charge Debit | Rs.25 |
| Delayed Payment Interest | 18% P.a. |
| System & Risk square off | Rs.100 |
| Pledge & Unpledge charges/ ISIN (customer-initiated) | Rs.10 |
| Re-pledge and Release charges/ ISIN (collaterals) | Rs.1 |
| Pledge Invocation Charges | Rs.15 |
| Demat/ Remat Charges | Rs.15 |
| Payment Gateway Charges | Rs.0 |
| Re-issuance of (Additional) New DIS | Rs.100 |
| Postal Charges for physical dispatch | Rs.40 |
| Pledge charge (Broker Margin Funding) | Rs.50 |