Tick Pro Reliance Securities Mobile Trading App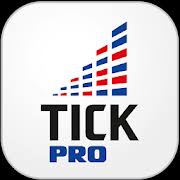 You can virtually connect to the stock markets with your account – anywhere, anytime with reliance SmartMoney.com's mobile trading app - TICK Pro. With the help of TICK Pro, you can connect to your online account and can monitor quotes, analyze charts, place orders, trade options or check your positions – all in real-time, 24/7.
Earlier reliance securities were having RMobile Xpress mobile app however they upgraded to a new trading app by the name of TICK PRO. This is an advanced app and saves each customer from repeated login and provides various other facilities such as instant funds transfer, finding trade opportunity using multiple indicators in charts, your quotes are backed by a fundamental and technical indicator.
This app is available in IOS as well as the android version and IOS version is compatible with Ipad and Ipod:
TICK Pro mobile app claims that it scans over 25,000 contracts, 5,000 securities per second and identifies opportunities for options trading. The app has scanners that give a list of stocks under different criteria like rising and falling volume, Resistance and Support, price trend, abnormal volume shockers, etc.
What are the features of TICK PRO?
TICK PRO is an advanced mobile app that offers features like real-time scanners and analytics of the market. This Mobile App makes your trading experience better and helps you in taking calculated decisions.
The Main features are as below:
Snap Quotes You can view market depth, Put-Call Ratio, Resistance & Support, Future quote and much more at a click. TICK PRO's Snap quote feature designed to help Traders and they can find all the informations on a swipe
Anaytics: Get all Options Contracts filtered and listed under strategies like Covered Call, Covered Put, Long Straddle and all with highest Implied Volatility. With analytics you can grab the opportunity listed right on your screen!
Scanners: Scanners throw filtered stocks with trade opportunities or abnormal behavior Using Big Data Analytics:Get all Options Contracts filtered and listed under strategies like Covered Call, Covered Put, Long Straddle and all with highest Implied Volatility. With analytics you can grab the opportunity listed right on your screen!

Rising and Falling Stocks
High Low Breakers
Volume Shockers
Resistance and Support
Circuit Breakers
Open = High or Low

Charts:TICK PRO offers candle-sticks, line graphs a various intervals that are real-time and streaming.
Market Snapshot: You can access all the market information on the go
Frequently Asked Questions: