Top 10 Cryptocurrencies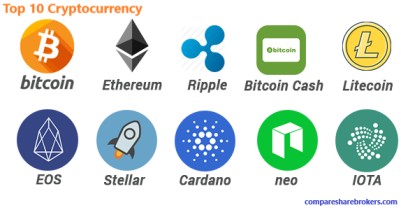 What is Cryptocurrency?
Cryptocurrency is based on blockchain technology, a decentralized record of complete transactions across a peer-to-peer network, which is highly secured, permanent with accurate tracking. It allows the user to have a transparent transaction. There is no physical existence of cryptocurrencies.
Bitcoin (BTC) is considered the most popular and the original form of cryptocurrency founded by a programmer under the alias Satoshi Nakamoto in 2009. Bitcoin is the largest and biggest cryptocurrency globally by market capitalization, and it has come a long way from being an unstable investment to digital gold. Bitcoin has changed the face of digital currency in the past 10+ years. Bitcoin market cap is currently around USD 846 Billion.
The Bitcoin price has skyrocketed every year, making it the number one cryptocurrency in today's market. Bitcoin has shown some fantastic promise to investors in the past few months. Bitcoin crossed its All-Time-High value of USD 68,000 in November 2021.
How does it work?
Cryptocurrencies also called virtual assets or digital coins, run on a blockchain ecosystem — a distributed public ledger that records the transactions. A virtual mining process creates cryptocurrencies units by solving complex mathematical problems on a computer that generates virtual coins. The users can buy cryptocurrencies from the crypto exchange platforms such as Binance, WaxirZ, Coinbase, Kraken, Gemini, etc. The users can store the cryptocurrencies in a crypto wallet and use them to buy, sell, trade, stake, or lend them.
As cryptocurrency is a virtual asset; thus the user does not own tangible assets, but they hold a private key that enables them to record their virtual assets without having their party know it. Cryptocurrencies are developed to perform independently from the third party's control, unlike traditional banking systems. Unlike government-backed fiat currencies, cryptocurrency value is driven by supply and demand.
After buying cryptocurrency, one needs to store it safely and keep it away from online hackers. There are two different cryptocurrencies wallets — Hot wallet and Cold wallet.
Hot wallet stores the cryptocurrencies on online highly encrypted software to protect the user's virtual assets.
Cold wallets are dependent on offline electronic devices secured by private keys.
Top 10 cryptocurrencies to invest in 2022
Bitcoin (BTC)

Bitcoin (BTC) is the king of all virtual assets globally. With an all-time high of USD 68,000 in November 2021, once again Bitcoin proved to be the most robust cryptocurrency. Bitcoin reached USD 1.00 in February of 2011, and within a decade, it has changed the entire virtual investments game. The market cap of BTC is over USD 730 billion.

BTC runs on blockchain technology — a ledger logging transactions that have been distributed across thousands of networks of computers, and it needs to be verified by solving a cryptographic puzzle. The whole method is called "proof of work" to keep Bitcoin (BTC) secure and safe from online phishers.

Bitcoin is undoubtedly the first choice of all crypto traders; therefore, it makes one of the best and all-time weather cryptocurrencies to invest in for high returns.

Ethereum (ETH)

Launched in 2015, Ethereum (ETH) is considered the second-highest valuable cryptocurrency after BTC (Bitcoin). The Ethereum application is run on Ether, a specific cryptographic token. Ethereum was split into Ethereum Classic (ETC) and Ethereum (ETH) in 2016. Ethereum has a market cap of over USD 313 billion currently.

Both on a blockchain platform and cryptocurrency, Ethereum is most favorable due to its potential decentralized software applications that enable decentralized applications (dApps) and smart contracts. In addition, it is built to run without any interference from a third party and with no downtime; therefore, there are zero chances for fraud.

Ethereum (ETH) also supports NFTs (non-fungible tokens). A digital asset has real-world objects like pictures, music, art, videos, in-game items that are bought and sold online with cryptocurrency (mainly Ethereum).

Ethereum transitioned its agreement algorithm to proof-of-stake (PoS) from proof of work (PoW) in December 2020. It allows Ethereum's network to work itself with reduced energy to improve the transaction speed and create a more deflationary economic environment. Proof-of-Stake (PoS) enables the network participants to stake their Ether to the network and helps them secure the transaction process and network fee.

Ethereum (ETH) cryptocurrency has also experienced enormous growth from April 2016 to the beginning of March 2022; the ETH price went from around USD 11 to over USD 3,000; that's whooping nearly 27,000%.

Tether (USDT)

Tether (USDT) launched in 2014 and is considered one of the stable coins because it is backed by USD fiat currency. As USDT is equal to USD, making it a good investment plan for the long term as it offers stability and flexibility to trader's portfolios. Tether currently has a market cap value of over USD 79.73 billion, making it the third-largest digital asset by market capitalization.

Binance Coin (BNB)

Binance Coin (BNB) is one of the youngest cryptocurrencies launched in 2017 utilized to pay the trade fees such as listing, exchange, or withdrawal fees on Binance — one of the biggest crypto exchange platforms globally based on the Cayman Islands. Binance crypto exchange platform offers its users a discount on fees paying using Binance Coins.

U.S. Dollar Coin (USDC)

U.S. Dollar Coin (USDC) is an Ethereum token, a stable coin pegged to the U.S. Dollar. Therefore, USDC is equivalent to U.S. dollars. U.S. Dollar Coin (USDC) is one of the most popular stable coins, next to Tether (USDT) and Terra (LUNA). Currently, the market cap is USD 52 Billion.

U.S. Dollar Coin (USDC) was created for the newbie crypto traders who wanted to explore the crypto trading market without risking the high costs, fees, and market volatility. Thus, it makes USDC a user-friendly virtual coin.

XRP (XRP)

XRP is a digital token developed by Ripple — one of the oldest cryptocurrencies created for cross-border power transactions in 2011, launched in 2012. XRP and Ripple payment transactions take less than five seconds to process via blockchain technology and currently have 300+ bank partners in its payments networks. XRP transactions cost less in comparison to other digital coins. The market cap of XRP is currently over USD 35 Billion.

Terra (LUNA)

Terra is based in South Korea and launched in 2018, and Terra (LUNA), the token, launched in 2019. Therefore, there are few stable coins in the market, and the second most used stable coin after Tether (USDT) is Terra (LUNA).

LUNA is a staking token that runs the entire blockchain Terra network and supports processing as the whole system. In addition, Terra offers digital assets pegged to various other fiat currencies, including Terra USD (UST), Canadian Dollar (CAT), EURO (EUT), Korean Won (KRT), Japanese Yen (JPY), and many others.

Terra (LUNA) has performed well since its launch and has grown in value as the project has become more successful. An RBF Capital report suggests by 2025, Terra (LUNA) could jump by 20% market share. Terra (LUNA) currently has over USD 30 billion market cap.

Cardano (ADA)

Cardano (ADA) was launched in 2017, and its main aim is to be more scalable, environmentally friendly, secure, and faster. Cardano is the most sustainable cryptocurrency next to Bitcoin and Ethereum. It is estimated that Cardano uses six-gigawatt hours of energy per year, while Bitcoin and Ethereum use 130 and 50 terawatt-hours.

Cardano works on a different system to verify transactions — proof of stake; therefore, it limits the device numbers that prove the transactions, resulting in less energy usage. In contrast, Ethereum and Bitcoin work on a proof of work model that doesn't limit the number of devices, thus using more energy. Soon, Ethereum will adapt the method of proof of stake model to be more eco-friendly.

Cardano is one of the fastest cryptocurrencies that can hold and release a large number of transactions, and it is currently able to process about 257 transactions per second. Soon, Cardano will be adding Hydra to its blockchain that can process around 1 million transactions per second. Cardano's growth is tremendous, and it is an ambitious project that is used across a variety of industries such as health care, agriculture, and finance.

Virtual assets can either have unlimited supply (which is rare) or fixed supply. Cardano has a maximum pool of 45 billion ADA, while 32 billion ADA is currently in circulation. Therefore, due to limited supply, the demand will shoot up. Currently, the market cap of Cardano (ADA) is over USD 28 billion.

Solana (SOL)

Solana (SOL) is one of the high-performance digital coins in the blockchain ecosystem that supports apps (decentralized applications) and smart contacts; therefore, it is considered as alternate crypto to Ethereum (ETH). On the other hand, Ethereum was the first cryptocurrency that has introduced a smart contact system — a tiny code that helps the blockchain ecosystem to run the dApps (decentralized applications) and various other programs.

Solana currently supports around 50,000 transactions per second, whereas Ethereum can only support 14 transactions per second.

A high amount of activity is going on in Solana's derivatives market and on-chain data. Last year in 2021, Solana (SOL) showed a promising growth of 11,000% and moved from a new virtual coin in the market to alternate crypto to Ethereum and listed under the top 10 cryptocurrencies to invest in by Market Cap. Currently, Solana (SOL) has over USD 27 Billion market cap.

Avalanche (AVAX)

Avalanche (AVAX), another smart contract digital asset that gained 3000% in 2021, jumped from being 64th rank to 10th rank in Market Cap with over USD 19 billion value. On the other hand, Ethereum, the first and biggest smart contract digital asset struggles with network congestion and higher transaction fees, making the traders and developers look for alternate coins that boost transaction speed with lower costs. Avalanche (AVAX) is a perfect match, in addition to Solana (SOL).

Avalanche (AVAX) has taken over the older digital assets — EOS (EOS) and Tron (TRON) by offering faster technology.

In addition, two new cryptocurrencies in the market gained popularity overnight after Elon Musk — CEO and Founder of SpaceX, Tesla, The Boring Company, and co-founder of OpenAI and Neuralink, talked about his crypto folio — Dogecoin (DOGE) and Shiba Inu (SHIB). Currently, Shiba Inu's (SHIB) market cap is over USD 31billion, and Dogecoin (DOGE) is over USD 16 billion.
The Future of Cryptocurrency
Many financial experts believe that the future of cryptocurrencies is bright, and investing in cryptocurrency can be promising. Moreover, investors believe that Bitcoin is a digital asset in large numbers; here's what we have seen.
There are two major reasons why Bitcoin will have a dramatic growth:
Many businesses are now widely accepting it as a valid payment method.
Various individual traders use various strategies like spot trading, futures trading, day trading, and arbitrage trading to make a good profit from cryptocurrencies, which helps boost the trading volume of different cryptocurrencies and Bitcoin.
Talking about profitability, Bitcoin will continue to be the go-to option for investors. Bitcoin has gained a lot of fame during the past decade, and almost everyone is familiar with its name now. Thus, cryptocurrency will remain relevant to people and continue to grow in the coming years.
Is it Too Late to Invest in Cryptocurrency?
As you can see, even after some slight dips, the overall future of cryptocurrency, specifically Bitcoin, Dogecoin, Ethereum, Litecoin, Ripple, looks very promising. Moreover, the adoption rate of cryptocurrency has grown a lot in the past few years.
In 2020, amid the Covid-19 pandemic, we saw a massive increase in the number of people who invested in cryptocurrency, which means more and more people are looking forward to long-term investment.
Experts also believe that Bitcoin's structure is ideal for the macroclimate. The ecosystem is capable enough to handle the adoption rates and skyrocketing prices. Businesses around the globe are now accepting Bitcoin as a payment method.
Moreover, many crypto exchanges platforms allow PayPal as a trusted third-party payment partner to buy cryptocurrencies now. Various Wall Street companies are also planning to adopt crypto trading on their platforms. So you can count on investing in cryptocurrency even when conventional market assets leave you confused.
Final Thoughts
The whole world suffered from the impact of COVID-19 on the economy, but cryptocurrency experienced stable and positive growth. Therefore, we are hopeful about cryptocurrency's dominance as a digital asset.
Currently, there are only 21 million BTC (Bitcoin) available for mining. However, around 18.5 million Bitcoins have been mined so far, and there are only 3 million left in circulation. The limited supply can be helpful to buy the cryptocurrencies now and hold for the future, as the prices will go up.
Cryptocurrency is the future, and now, it is the right to invest in it. It has helped millions of people around the globe to make huge profits by investing in different currencies, and NOW is the right time to invest in crypto and gain huge profits. However, it is highly advisable to learn crypto trading from financial experts before investing a large amount in crypto trading.