Top 10 Cryptocurrency exchanges in India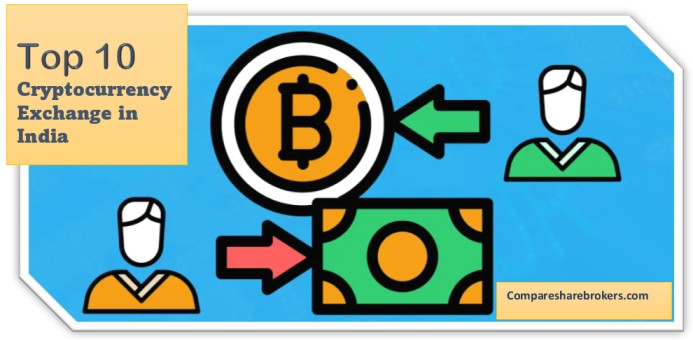 Besides India's stock market and other investment options, cryptocurrencies have gained massive trust for future investment in the past couple of years in India's financial sector. Even though in March 2018, the RBI imposed a ban on crypto trading in India, after two years, in March 2020, RBI lifted the ban and allowed banks and other financial institutes to provide the service.
A cryptocurrency is a form of virtual asset based on a digital network that is a decentralized structure. Therefore cryptocurrencies exist outside any central or government authorities; hence there is no form of taxation on cryptocurrencies.
There are numerous cryptocurrencies in the market, and one needs to sign up with a crypto exchange platform where the user can buy, sell, and trade cryptocurrencies. The exchange of cryptocurrency is based on the current market price. Therefore, as the market price keeps fluctuating, the prices of cryptocurrencies vary.
What is Crypto Exchange? How Does It Work?
In cryptocurrencies, crypto exchange plays a critical role in converting fiat currencies (currency issued by the government) into virtual assets and vice versa. A crypto exchange is a digital platform that acts as a trusted escrow partner between buyer and seller of cryptocurrency's digital assets.
Unlike to trade in the stock market, the users need a Demat account; the users don't need to open a particular account to trade in cryptocurrencies. Instead, they can use their savings accounts to transfer the amount to invest in digital assets.
However, similar to the stock exchange market, the crypto exchange works on a brokerage system, and it is called maker (seller) and taker (buyer) fees. When the user deposits amount via wire transfer — NEFT, RTGS, IMPS, UPI, or other means of deposit through third party transfer (MobiKwik, Paytm, etc.), the crypto exchange charges a small percentage of fees, ensuring the transfer is highly encrypted and safe. Various crypto exchanges charge different fees.
Apart from converting fiat currencies into digital currencies, a crypto exchange also allows the users to convert one digital currency to another. For instance, the trader wants to convert Bitcoins to Dogecoins.
What Should You Check When Choosing a Cryptocurrency Exchange?
1. The accessibility and fiat currency acceptance
There are 100+ crypto exchanges globally, but not all cryptocurrency spot exchanges are accessible. Though you can download it, you won't be able to trade as either the location is barred or the crypto exchange doesn't accept your country's fiat currency. Therefore, it is highly advisable to use only those crypto exchanges taken in your geographical location to avoid legal laws. Every country has its own strict regulations towards cryptocurrencies, and one should adhere to them.
However, there are some decentralized methods to buy the cryptocurrencies such as Ethereum without the involvement of any escrow, but the reach is limited and the process is slow.
2. The security of the crypto exchange platform
Another critical factor is the security of your chosen crypto exchange platform. Unlike your regular bank accounts, cryptocurrencies are decentralized. Therefore, there is no government involvement in any cryptocurrencies exchange as it is a digital asset transaction. Therefore, one should only trade through the trusted escrow with the highest encryption level and offer the security of your digital assets.
3. Cryptocurrencies offered
As of November 2021, it has been stated that there are more than 7000 cryptocurrencies globally, while foremost of them have low trading volume or following. Hence, it is critical to know that the crypto exchange platform you are choosing should have the top 50 cryptocurrencies listen in the platform, including the most highly traded cryptocurrencies — Bitcoin (BTC), Bitcoin Cash (BCH), Litecoin (LTC), Ethereum (ETH), Cardona (ADA), Polkadot (DOT), Binance Coin (BNB), Tether (USDT), and Ripple (XRP).
4. Transaction fees
Another important factor is the transaction fees. The transaction fees refer to the maker (seller) and taker (buyer) fees the crypto exchange platform charges for the service they are providing, ensuring the crypto trading is secure and safe. There is a certain factor to consider, some high fee crypto exchange platforms offer unique services in addition to secured trading like P2P and NFT market. While there is certain other crypto exchange platform that offers lower fees as they are offering only trading. It is critical to know about your crypto exchange platform depending upon the services you wish to opt for.
5. Learning method offered by crypto exchanges
Different crypto exchange platforms operate other methods. Apart from crypto trading, the crypto exchange platform must offer educational tools for beginners by experienced traders.
The above are the top 5 factors one needs to consider while opting for crypto exchange, but additional one should also research the company information such as liquidity, tax information, and storage.
Types of Cryptocurrency Exchanges
1. Centralized Exchanges (CEX)
Centralized exchanges (CEX) are the most preferred cryptocurrency exchanges. They are administered by a trusted company offering users fiat currency to crypto trading and vice versa, as well as crypto-to-crypto swap trading. CEX, the crypto exchange platform, provides a standard bank setup where the users need to transfer the amount to the company account and later buy the cryptocurrencies. The company will hold your digital assets on your behalf securely. In exchange for the service, the company asks for a transfer fee.
Trading via centralized exchanges is mandatory to get KYC (know your customer) done by uploading ID proof issued by the government of the user that mentioned their name, DOB, and address.
2. Decentralized Exchanges (DEX)
Decentralized Exchange is an alternative to Centralized Exchanges where the user buys digital assets such as Bitcoin and Ethereum directly from the sellers; there is no company involvement.
The transactions on decentralized exchanges are automated using decentralized applications (DAppa) — a program runs on a P2P (peer-to-peer) or blockchain network and smart contracts — a program with collections of codes and data that runs on an Ethereum blockchain.
Some traders who have been highly experienced in crypto trading for years prefer to trade via decentralized exchanges as there is zero possibility of a breach, and it's almost impossible for the regulators and governments to track and shut them. However, the DEX runs on limited UI features that make it more challenging to operate as well the trading volume and liquidity are low.
Uniswap and Binance DEX are the most well-known decentralized exchanges.
3. Hybrid Exchange (HEX)
Hybrid Exchange combines centralized and decentralized exchange — fastest trading, auto-matching, and holding the private key of your transaction. Though the hybrid exchange is still not famous, and fewer geographical locations have access to it. Still, it is expected to create a significant transformation in the crypto trading market soon in the coming years.
Currently, Qurrex and Nash are the most famous hybrid exchanges. Qurrex is the first hybrid crypto exchange launched in 2018.
Top 10 Cryptocurrency Exchange in India by volume
When it comes to choosing crypto exchanges, financial experts have suggested that there can not be one crypto exchange that is suitable for all traders. Different traders have different goals, so various crypto exchanges in the market help different users meet their goals.
With more investors are looking for diversity in their portfolio and grow wealth for the future, here are the top 10 crypto exchanges in India that you should look after:
| Rank | Cryptocurrency Exchange | Volume | Makers Fee | Takers Fee |
| --- | --- | --- | --- | --- |
| 1 | Binance | USD 35.04 billion | 0.015% to 0.10% | 0.015% to 0.10% |
| 2 | OKEx | USD 9.78 billion | 0.08% (for active traders: 0.02%) | 0.10% (for active traders: 0.05%) |
| 3 | Coinbase | USD 7.43 billion | 0.00 % and 0.50 % | 0.04 % and 0.50 % |
| 4 | Kraken | USD 1.47 billion | 0.26% per trade | 0.16% per trade |
| 5 | Bitfinex | USD 1.04 billion | 0.000% to 0.10% | 0.055% to 0.20% |
| 6 | Bitstamp | USD 432 million | 0.50% | 0.50% |
| 7 | WazirX | USD 275 million | 0.20% | 0.20% |
| 8 | CoinDCX | USD 112 million | 0.06% | 0.04% |
| 9 | Zebpay | USD 36 million | 0.15% | 0.25% |
| 10 | Bitbns | USD 35.5 million | 0.25% | 0.25% |
1. Binance — USD 35.04 billion volume
Binance is the largest cryptocurrency exchange globally that offers an excellent crypto trading experience. China first built the Binance crypto exchange platform, later it moved to Japan, and then Binance US based in San Francisco-California.
Binance is currently available in 180+ countries, and it is estimated the number of countries will grow in the coming years. Currently, there are more than 21 million Binance users.
Binance offers over 500 cryptocurrencies. In addition, Binance offers more services other than crypto trading — limited orders, marker orders, stop-limit orders, P2P trading, post-only orders, and many more. However, due to some regulatory laws, there are fewer features available for US residents.
Binance also offers advanced trading and lower fees for their VIP clients. The plan starts from users holding 50 BNB up to 11,000 and more BNB.
Binance is best for those who are into crypto trading for years and want an advanced platform to invest in with added strategies. Binance offers the highest level of trading security — 2FA verification via Google Authenticator and OTP on SMS and insurance of USD balance via FDIC (Federal Deposit Insurance Corporation).
Binance transaction fees:
- Taker fees: 0.015% to 0.1%
- Makers fees: 0.015% to 0.1%
- Other fees: 0.50% on instant buy and sell (same day trading)
However, Binance offers a 25% discount when users use Binance Token (BNB) to pay the fees.
2. OKEx — USD 9.78 billion volume
OKEx is a Seychelles crypto exchange company launched in 2017. OKEx is currently active in more than 200 countries, including India, and there is more than 400 crypto available to trade on the platform — web, Android, and iOS. OKEx offers USD 10 in BTC when the new user buys or sells crypto of USD 100. Currently, there are over 20 million OKEx users.
OKEx transaction fees:
- Taker fees: 0.10% (for active traders: 0.05%)
- Makers fees: 0.08% (for active traders: 0.02%)
- BTC withdrawal fees: 0.0005 BTC
OKEx offers the highest security and safest platform to trade for their users. Adding a layer of protection, OKEx uses 2FA Google Authenticator, and the users need to go through detailed KYC automatically cross-check with data they are providing.
3. Coinbase — USD 7.43 billion volume
Coinbase is considered the most trusted crypto exchange platform by US regulators. Coinbase offers a user-friendly crypto exchange platform that is suitable for novice traders as well as expert traders. In addition, Coinbase provides withdrawal for the PayPal account, which a few crypto exchange companies currently offer. There are more than 35 million users on Coinbase.
Coinbase transaction fees:
- Taker fees: between 0.04 % and 0.50 %
- Makers fees: between 0.00 % and 0.50 %
Coinbase works differently than other crypto exchange platforms available in the market. Crypto exchange charge taker and maker fees based on the holding crypto amount. For instance, up to USD 10K crypto holder, the taker fee is 0.50%, and the taker fee is 0.50%, while the USD 100K to USD 1M crypto holder maker fee is 0.18%, and taker fee is 0.08%.
There are more than 100 digital tokens available on the Coinbase platform. Coinbase provides an ultimate easy and clean interface and has minimal options. Coinbase is one of the trusted crypto exchanges that offer 2FA security to its users.
4. Kraken — USD 1.47 billion volume
Kraken is one of the oldest crypto exchange platforms founded in 2011 but started its trading operations in 2013. Kraken is based in San Francisco, USA, and currently is the fourth largest (by volume) crypto exchange platform, having 6+ million active users.
Kraken has offered many traders because it's a user-friendly platform, has solid world-class security, and has lower trading fees. Currently, Kraken is available in 190 countries. Kraken offers 60+ coins, including Tether (USDT), USD Coin (USDC), and Dai (DAI) — the three stable coins. In addition to trading, Kraken offers 24/7 365 days global support through live chat.
Kraken transaction fees:
- Taker fees: 0.16% per trade
- Maker fees: 0.26% per trade
5. Bitfinex — USD 1.04 billion volume
Founded in 2012, Bitfinex is HongKong based company offering crypto exchange, derivatives, OTC (over-the-counter), margin trading, and lending services in 52 countries. In addition, Bitfinex has partnered with Market Synergy that helps in the fastest and smooth trading experience through high-grade connectivity.
Bitfinex trading fees depend upon the traded amount.
Bitfinex transaction fees:
- Taker fees: 0.055% to 0.200%
- Maker fees: 0.000% to 0.100%
6. Bitstamp — USD 432 million volume
Bitstamp crypto exchange was founded in 2011 and is based in Luxembourg. Bitstamp is popular among active traders who deal in high volumes and experienced traders. Bitstamp only offers 50 coins and the highest trading digital assets, including Bitcoin (BTC), Ethereum (ETH), Tether (USDT). In addition, Bitstamp offers 2FA security and insurance of crime against fraud or theft to its users. Along with the high-grade security, 98% of Bitstamp assets are stored offline.
Bitstamp transaction fees:
- Taker fees: 0.50%
- Maker fees: 0.50%
7. WazirX — USD 275 million volume
A subsidiary of Binance — a world pioneer crypto exchange company, WazirX launched in 2018 intending to make crypto trading easily accessible with the highest security level to all Indian investors. Currently, WazirX has over 6.5 million users and is available on five platforms — web, mac, windows, iOS, and android.
WazirX transaction fees:
- Taker fees: 0.20%
- Makers fees: 0.20%
- P2P Transaction Charges: NIL
- STF Trading Fees: The experienced trader earns 25% of the profits for STF trading.
- BTC withdrawal fees: 0.0006 BTC
WazirX has more than 120 cryptocurrencies listed on the platform. Backed by Binance Blockchain technology, WazirX has its own crypto token — WRX, allowing investors to diversify their portfolios.
WazirX was India's first-ever crypto exchange platform that launched the world's first P2P — peer-to-peer, the fastest technology of auto-matching engine, the time when RBI banned banks and other financial institutes from offering conversion of fiat currencies to digital assets in 2018.
WazirX also launched STF — Smart Token Funds in India, where the expert traders have posted their crypto trading portfolio, strategies, asset allocations, and the number of days since they started trading. STF is designed for beginners and for those who want to learn crypto trading in depth. The trader has their own token when the users buy their token; the user will earn a 25% commission whenever the trader makes a profit.
WazirX is developed with the most potent encryption level. To safeguard the user's account, WazirX has two security options — Google Authenticator TOTP (The time-based one-time password) valid for 60 seconds Mobile SMS OTP valid for 5 minutes.
8. CoinDCX — USD 112 million volume
One of the famous Indian crypto exchange platforms, mobile-first, located in Mumbai and based in Singapore, was launched in 2018. There are over 100+ cryptocurrencies available on CoinDCX. Currently, there are over 4 million users of CoinDCX.
CoinDCX transaction fees:
- Taker fees: 0.04%
- Makers fees: 0.06%
- BTC withdrawal fees: 0.001 BTC
CoinDCX offers excellent security to its users via BitGo — a leader in digital asset security based in California, USA. CoinDCX ensures all the user's data is highly encrypted. Furthermore, 95% of the CoinDCX funds are stored in cold wallets and multi-sig.
CoinDCX offers 2FA (two-factor authentication) at the time of login and withdrawal. As well there are multiple verifications the users need to go through before processing the withdrawals.
CoinDCX is backed by some top investors — Coinbase Ventures, Bit mex, Bain Capital Ventures, and Polychain Capital. However, CoinDCX only offers INR as a fiat currency transaction.
Other features: Coin DCX offers DCX learning for all users, ensuring safe trading.
9. Zebpay — USD 36 million volume
Zebpay was founded in 2014, an India-based company designed in Singapore. ZebPay is currently serving in more than 160 countries globally. Zebpay offers a curated list of over 30 cryptocurrencies based on their trading and performance. The list keeps changing every week, ensuring users have the most beneficial trading experience.
Currently, Zebpay has over 4 million active users. Zebpay is available on the web, iOS, and Android platforms.
Zebpay transaction fees:
- Monthly membership: 0.0001 BTC (only for inactive users with no trading activity for a month)
- Taker fees: 0.25%
- Makers fees: 0.15%
- Intraday: 0.10%
- BTC withdrawal fees: 0.0006 BTC
Zebpay has partnered with BitGo — a world prominent company offering the best digital asset security. Furthermore, to maintain the safety of the blockchain transaction, Zebpay has partnered with Chainalysis, creating transparency security between the bank and government, ensuring the safe use of crypto trading by users.
10. Bitbns — USD 35.5 million volume
Bitbns is a Bengaluru, India-based crypto exchange platform founded in 2015 and part of Buyhatke Internet Private Limited. Though Bitbns is one of India's lesser-known crypto trading exchanges, it offers 300+ cryptocurrencies and world-class security. In addition, Bitbns offers flat trade fees of 0.25% on maker and taker.
Important: The above trade volume is per 24-hour trading volume in USD as of Nov 1st, 2021.
Conclusion:
More than two crores of Indians are currently holding cryptocurrencies, and as per the Business Standard, USD 21.8 billion of trading volume has been recorded in the first seven months of 2021.

Even though cryptocurrencies look promising and are reaping higher returns compared to other traditional investments, it is highly advisable to seek the advice of a professional finance trader before starting investment and trading in cryptocurrencies. Kindly refer to the crypto exchange company website before opting for crypto trading.