Top 10 Reasons to Trade with ICICI Direct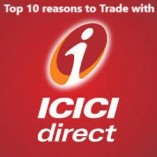 ICICI Securities Limited (I-Sec) is a subsidiary of ICICI Bank Ltd. The company began its operation in May 1995. I-Sec operates www.icicidirect.com, a virtual financial supermarket, meeting the three need sets of its clients - investments, protection, and borrowing. ICICI Direct an award-winning, pioneering online broking platform, The platform not only offers convenient ways to invest in Equity, Derivatives, Currency Futures, Mutual Funds but also other services Fixed Deposits, Loans, Tax Services, New Pension Systems, and Insurance are available.ICICI Direct is a market leader in financial product distribution with a huge network of its own offices, sub-brokers, and investment associates
The Company has one of the largest pan-India distribution networks of over 200+ ICICIdirect Branches, over 701 sub-brokers, and a team of over 7100 Investment Associates/Independent Financial Associates across 75+ cities in India. ICICI Direct has touched a milestone of 5+ million customers
Special Offer:
Brokerage free equity delivery trading (no commission) + Flat Rs 20 Intra-day and F&O trades.
Get the offer
More than 50 products and services is been offered by ICICI Direct under one roof, like Equity, Mutual Funds, Derivatives, Futures, and Options Currency, Commodity, ETF, Insurance, IPOs, Corporate Fixed Deposits, Loans, NPS, Wealth Management, Corporate Services, NRI Services, Portfolio Management Services, Global Investment, Financial Learning, Tax Services, etc.
Why ICICI Direct - Top 10 Reasons to Trade with ICICI Direct
ICICIdirect is the largest retail stockbroker and financial product distributor in the country trusted by over 50+lac customers with over 2 decades of service having 170+ branches across India.
Here are the top 10 reasons why to trade with ICICI Direct:
ICICI Direct 3-in-1 Online Trading Account: A Unique 3-in-1 Online Trading Account, which includes ICICI Bank Account, ICICI Trading Account, and ICICI Demat Account, is the key offering for the retail stock market investors in India.
ICICI Direct Neo Brokerage Plan: ICICI Direct NEO, which offers Zero brokerage on Future Trade, Rs.20 Unlimited per order brokerage on options & Intraday trade.ICICI direct NEO brokerage plan provides an opportunity to invest in the stock market at competitive rates and is been designed for the trader community who mostly trades in the F&O segment (including currency & commodity F&O) and interested in lowering their brokerage along with a host of services provided by ICICI. This plan would bring ICICIdirect into the league of discount brokers with respect to the brokerage charges and would surely help them to gain market share.
Research & Advisory services: ICICIdirect has a unique research desk that offers various research-based products designed to meet the needs of its clients across different time horizons. ICICIdirect award-winning research teams have a 75% strike rate since inception. :
Sense of Security: Being part of the ICICI Group gives a sense of security among the investor also Instead of transferring monies to a broker's pool or towards deposits, you can manage your own demat and bank accounts when you trade through ICICIdirect.com. It provides you the flexibility to pay only when you trade.
Host of Services: Investment online in IPOs, Mutual Funds, GOI Bonds, and Postal Savings Schemes all from one website. General Insurance is also available from ICICI Lombard.
Margin Trade Funding (MTF): Buy stocks today and get 365 days to hold positions with up to 4 times exposure under Margin Trading Facility at nominal interest rates as low as 8.9% with ICICIdirect Prime.
NRI Trading: ICICI Direct offers NRI services by 3-in-1 integrated account that enables you to tie in your savings bank, demat, and brokerage accounts electronically and seamlessly. You can invest in equities, derivatives (F&O), mutual funds, IPOs, ETFs through your ICICI NRI account.
"Cash on Spot" Facility:'Cash on Spot' (Spot) is a facility offered by ICICIdirect wherein the customer would receive the funds on his/her sale transaction on the transaction date itself. Thus the customer would not have to wait until the payout day to receive the funds thus increasing the liquidity for the customer.
Stable and Robust Platform: ICICI Direct.com (Web), ICICI direct mobile & ICICI Direct trade racer are the finest platform to support a seamless trading experience.
e-ATM facility: In ICICI Direct You'll get FULL payment of your stock sell in your bank account within 30 minutes of selling your stock. This facility is available to all at no extra cost. with this facility you can get instant credit of cash up to Rs. 50000 per day and is available in more than 600 stocks in BSE.
Special Offer:
Brokerage free equity delivery trading (no commission) + Flat Rs 20 Intra-day and F&O trades.
Get the offer