Zerodha Kite Review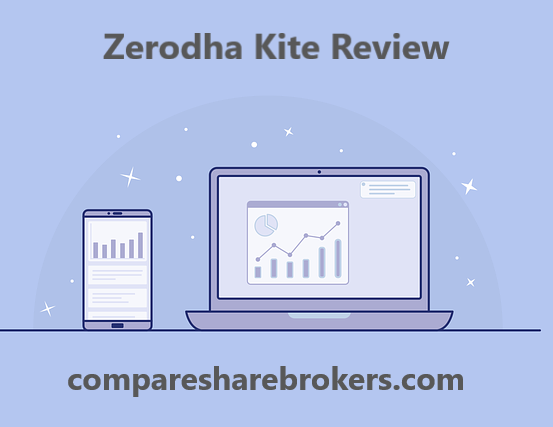 Zerodha Kite is an online trading platform developed by Zerodha. It supports trading and investment across asset classes like Equity Trading, Future & Options, commodity Trading, currency. The Kite for Zerodha is available in various versions – web-based and mobile trading application and available on both Android and iOS.
It also offers a range of features like charting tools, data widgets, integration with third-party apps, and so on to make trading easy and fast.
Zerodha is the number one brokerage firm based out of Banglore, Zerodha works as a flat fee share broker popularly known as Discount brokers, Budget Brokers, or Pay Per Order Brokerage. The said discount broking model avoids variable charges based on the volume and charges flat fees irrespective of volumes therefore favors traders who take large futures and options provisions. For Indian residents, Zerodha charges a brokerage of 0.03% or ₹20 per executed order, whichever is lower, irrespective of the number of shares or their value (other than equity delivery trade which is free).In the case of the NRI account, Zerodha charges a brokerage of 0.1% OR ₹200 per executed order for equity (whichever is lower) and for ₹100 per order for F&O trade. Zerodha charges only ₹500 for opening an NRI trading account
Zerodha Kite Features or facilities
Easy SerchOne-tap universal instrument search for all contracts across all exchanges.

Realtime data and streaming.

Advanced chart with 100+ indicators

Free historical chart data

Multiple MarketWatch.

Advanced order type Regular, AMO, BO (Bracket orders), CO (Cover orders)

Integration with other investment apps

Accurate P&L reports
Zerodha Kite Advantage & Disadvantage
Advantages
It Can work with lower Internet speed which is huge advantage for small towen users
It is completely Free and does not have any subscription charges.
It is very lite interms of resources which help in better trading experience.
Integration with other investment apps like Varasity,ZConnect and Quant.
It is available in Mobile version and on both Android and iOS.
A Chrome extension is also available for the Kite Platform.
GTT – Good Till Triggered orders:Place single-leg triggers to enter or exit stock holdings until your price condition is met, along with simultaneously placing target and stoploss for your stock holdings..
True P&L: compute the most accurate profit and loss statements (P&L) for your portfolio.
Unlimited extensibility:Build your own applications with Kite Connect APIs.
Dis-advantages
Backtesting of strategies is not possible in Kite.
Seprate Back office software.
Zerodha Kite Platforms
Zerodha Kite platform is available as Zerodha Kite Web, Kite mobile app, and Kite connect API. Lets discuss them all
Kite 3.0 A web based HTML5 trading platform developed by Zerodha, it offers host of features like:
Works at a bandwidth consumption of less than 0.5kbps.

Provides extensive charting with over 100 indicators and 6 charts type.

offer advanced orders type like Brackets & Covers..

Millisecond order placement.
Kite Mobile App It is one of the fastest and the most popular trading application that offers trade on your fingertips from anywhere in the world. The Kite app is available on both the Playstore and App store for android and iOS devices and provides a host of features like
One-tap universal instrument search.

Online availability of Data.

Advanced charting

Funds transfer.

Portfolio tracking.
Kite Connect APIs Kite Connect is a set of simple HTTP APIs built on top of Zerodha's web-based trading platform, Kite. With Kite connect API, users can change coding using any supporting programing language i.e. Python, Java, etc. to control live market quotes, order, funds, profile, positions, and many others. It is a paid service as the broker charges ₹2000 as a monthly subscription fee to access Zerodha API. It enables users to place orders and manage portfolio at their convenience from an interface of their choice
Frequently Asked Questions: