Top 10 Reasons to Trade with Zerodha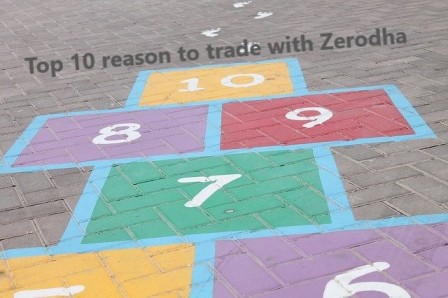 Zerodha is the innovator of the discount broking model in India, Infect, has brought the concept of discount broking in India and post that the overall dynamics of the stockbroking space have seen a huge transformation. It offers a broad range of financial products and services including securities brokerage, mutual fund distribution, Commodity trading, etc. at low brokerage (Zerodha rs 20 per trade).
The headquarters of Zerodha is in Bangalore and its other franchise offices are in the major cities such as Hyderabad (Andhra Pradesh), Pune (Maharashtra), Ahmadabad (Gujarat), Chennai (Tamil Nadu), Vijayawada (Andhra Pradesh), Hubli (Karnataka), Salem (Tamil Nadu), Coimbatore (Tamil Nadu), Kanyakumari (Tamil Nadu) and Kochi (Kerala). Among the innumerable discount brokers in the nation, Zerodha is the firm that went online first.
They are transparent compared to other brokers present In the market and have also made their all trading platforms user-friendly. They provide assistance to their client in various forms and their website also gives explains to their clients in layman and easily understandable language. They avoid jargon on their site for increasing customer satisfaction
Special Offer:
Brokerage free equity delivery trading (no commission) + Flat Rs 20 Intra-day and F&O trades.
Get the offer
Why Zerodha - Top 10 Reasons to Trade with Zerodha
With 2.9+ million monthly active clients, Zerodha became a no 1 Stockbroker both by the number of active clients and the trading turnover surpassing ICICI direct In January 2020. Zerodha probably the largest retail broker in the world by the number of trades. While Charles Schwab (the largest broker in the US with $4 trillion in AUM) reported a record 2+ million trades recently, Zerodha has been processing over 7 million trades a day. While most of these trades do not generate revenue for them, the ones that do, make them one of the most profitable brokerage firms in India.
Here are the top 10 reasons why to trade with Zerodha:
No 1 Stock Broker in India: With 2.9+ million monthly active clients, Zerodha became no 1 Stockbroker both by the number of active clients and the trading turnover surpassing ICICI direct. Zerodha is one of the fastest-growing Discount Brokers in India.
Zerodha Pricing: Zerodha among one of the cheapest brokers in India, what makes to say this is because:

Brokerage Free Equity Delivery Trade
Brokerage Free Direct mutual funds investment
Everything else at BSE, NSE, and MCX would be charged at the same fee of 0.03% or Rs 20 per executed order, whichever is lower.
No minimum Brokerage, no software charges, no subscription fee, and no minimum amount balance required to open an account with Zerodha.

Zerodha Customer Support: Over 1500 dedicated support teams to ensure the fastest turnaround time for your queries via email or phone. (As of Oct 2020). Multiple ways to interact with Zerodha, Trading Q&A, Z-Connect, interactive blog, and portal for all your queries.
Zerodha Varsity: Varsity is an investor education & learning platform from Zerodha wherein investors can learn the nuisance of investing in the stock market. Zerodha Varsity provides a collection of stock market lessons along with in-depth coverage and illustrations in easy to understandable language.
NRI Trading: Zerodha offers NRI trading at an affordable price. In the case of the NRI account, Zerodha charges a brokerage of 0.1% OR Rs. 200 (whichever is lower) per executed order for equity delivery and for Rs. 100 per order for F&O trade. Zerodha charges only Rs. 500 for opening an NRI trading account
Zerodha referral program: Effective Jan 1st, 2020, if you are a Zerodha Customer you can earn 10% of the brokerage (paid by anyone you referred) by referring your friend & Family in addition to the current reward program where Both you and your referral will earn 300 Zerodha reward points when they open an account. These reward points can be used to subscribe to their paid products (Streak, Sensibull, small case, and LearnApp).
Zerodha Coin: Zerodha Coin is India's largest direct mutual fund platform that helps you to buy direct mutual funds online without any commission or Brokerage, directly from asset management companies. This also provides an opportunity to invest in a wide range of schemes portfolio, easy-to-use mobile & web-based platforms, investment on fingertips on coin app. Zerodha has tie-up with more than 40AMCs for mutual fund investment. This platform is available on both web and mobile versions. You can access the web platform (coin.zerodha.com) through login with Kite and its coin mobile app is also available on both – Android and iOS.
Zerodha Kite: Zerodha Kite is an online trading platform developed by Zerodha. It supports trading and investment across asset classes like Equity Trading, Future & Options, commodity Trading, currency. The Kite for Zerodha is available in various versions – web-based and mobile trading applications and available on both Android and iOS.It also offers a range of features like charting tools, data widgets, integration with third-party apps, and so on to make trading easy and fast.
Zerodha PI: is an installable trading software application that allows traders to trade from anywhere. It supports trading in multiple segments like equities, currency, commodities, and derivatives, etc., across multiple exchanges NSE, BSE, and MCX, etc. The platform offers good features like advanced charting, algos, strategies, and backtesting, etc., and is available free of cost for Zerodha's customers. Pi offers traders a single platform to do trading, charting and analysis.
Innovative and unique trading tools - SPAN Calculator, Bracket orders & Trailing Stoploss, Market Intel, Options Strategy, Market Monitor, etc
Special Offer:
Brokerage free equity delivery trading (no commission) + Flat Rs 20 Intra-day and F&O trades.
Get the offer