Zerodha Brokerage and Demat Account Charges 2020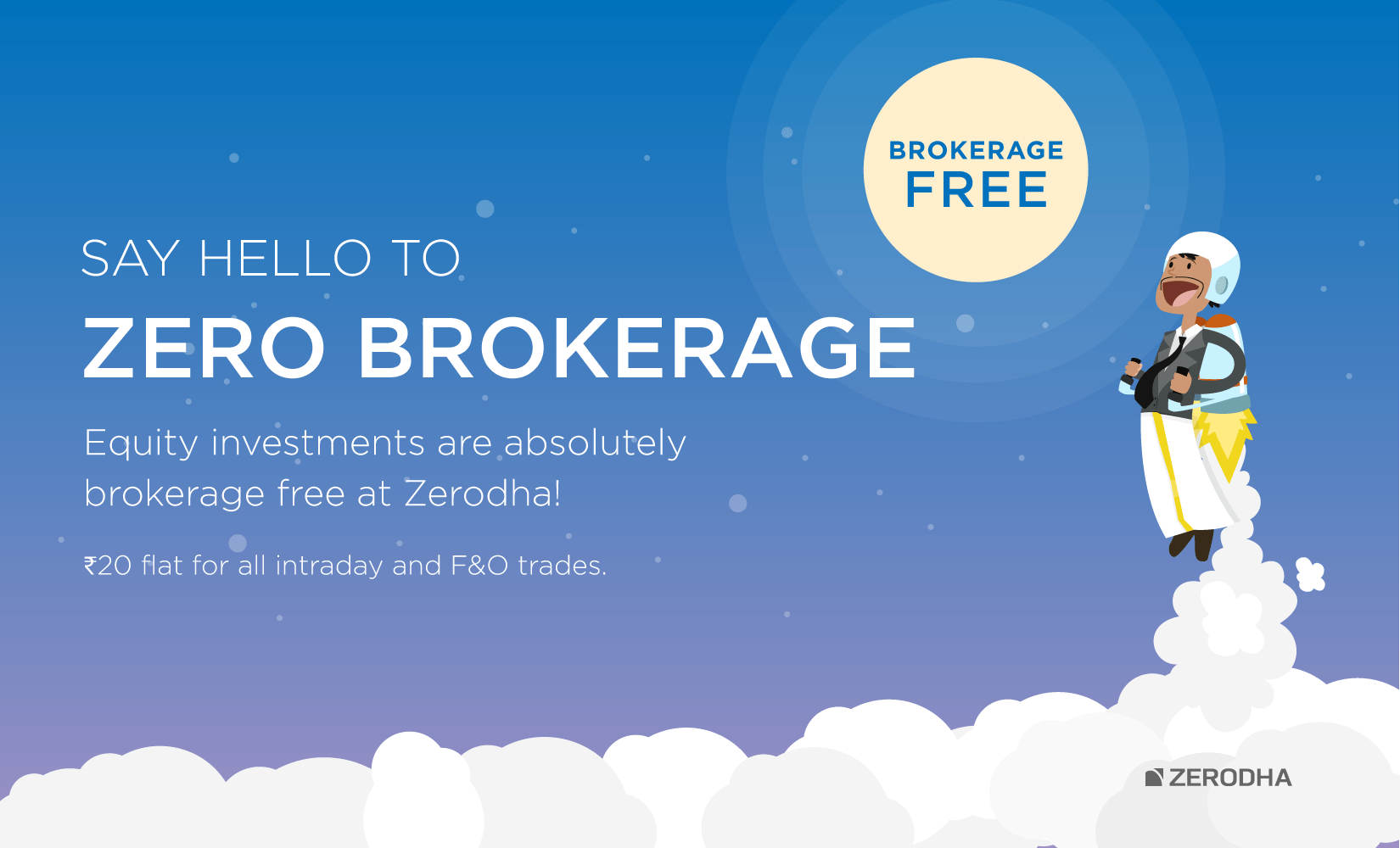 Zerodha is the number one brokerage firms based out of Banglore, Zerodha works as a flat fee share broker popularly known as Discount brokers, Budget Brokers, or Pay Per Order Brokerage. The said discount broking model avoids variable charges based on the volume and charges flat fees irrespective of volumes, therefore, favors traders who take large futures and options provisions.
Zerodha has recently collaborated with IDFC First bank and started providing the 3-in-one account facility just like ICICI Direct, HDFC Securities without any additional charges. The Zerodha-IDFC FIRST Bank 3-in-1 account is a single account which is inclusive of a trading, DEMAT, and bank account, all rolled into one in order to provide a seamless banking & investing experience for individuals.
For all Indian residents, Zerodha charges a brokerage of 0.03% or ₹20 per executed order, whichever is lower, irrespective of the number of shares or their value (other than equity delivery trade which is free). Zerodha doesn't have minimum brokerage and the maximum brokerage you pay for any transaction is ₹20 for an order (of any size and in any segment).
In the case of the NRI account Zerodha charges a brokerage of 0.1% OR Rs. 200 per executed order for equity (whichever is lower) and for Rs. 100 per order for F&O trade. Zerodha charges only Rs. 500 for opening an NRI trading account
All direct mutual fund investments are absolutely free — Rs. 0 commissions & DP charges.
Zerodha Account Opening Charges 2020
| Particulars | Charges |
| --- | --- |
| Zerodha Trading Account Opening Charges (One Time) | Rs.200 |
| Zerodha Trading Account AMC Charges (Yearly Fee) | Free |
| Zerodha Demat Account Opening Charges (One Time) | Free |
| Zerodha Demat Account AMC Charges (Yearly Fee) | Rs 300 P.A. |
Zerodha Brokerage Charges 2020
| Segment | Zerodha Brokerage Charges |
| --- | --- |
| Equity Delivery | Free |
| Equity Intraday | 0.03% or Rs. 20/executed order whichever is lower |
| Equity Future | 0.03% or Rs. 20/executed order whichever is lower |
| Equity Options | Flat Rs 20 per order |
| Currency Future | 0.03% or Rs. 20/executed order whichever is lower |
| Currency Options | 0.03% or Rs. 20/executed order whichever is lower |
| Commodity | 0.03% or Rs. 20/executed order whichever is lower |
Zerodha Transcation Charges:
| Segment | Transaction Charges |
| --- | --- |
| Equity Delivery | NSE Rs.325 per Cr (0.00325%) | BSE Rs.300 per Cr (0.003%) (each side) |
| Equity Intraday | NSE Rs.325 per Cr (0.00325%) | BSE Rs.300 per Cr (0.003%) (each side) |
| Equity Future | NSE Rs.190 per Cr (0.0019%) |
| Equity Options | NSE Rs.5000 per Cr (0.05%) |
| Currency Future | NSE Rs.90 per Cr (0.0009%) | BSE Rs.22 per Cr (0.00022%) |
| Currency Options | NSE Rs.70 per Cr (0.0007%) | BSE Rs.100 per Cr (0.001%) (on premium) |
| Commodity | Group A - Rs.260 per Cr (0.0026%) |
Zerodha Security Transcation Tax and Commodity Transcation Tax:
| Segment | STT/CTT |
| --- | --- |
| Equity Delivery | 0.1% on buy & sell both |
| Equity Intraday | 0.025% on the sell-side only |
| Equity Future | 0.01% on sell-side only |
| Equity Options | 0.05% on sell-side (on premium) |
| Currency Future | No STT |
| Currency Options | No STT |
| Commodity | Futures: 0.01% on sell-side (Non-Agri), Options 0.05% on sell-side |
Zerodha Taxes:
18% GST on (brokerage + transaction charges)
Zerodha SEBI CHARGES:
0.0001% or Rs.10 / crore
Zerodha STAMP CHARGES:
Based on the state to state
Charges for optional value-added services offered by Zerodha
| Service | Billing Frequency | Charges |
| --- | --- | --- |
| StockReports+ | Monthly /6 Monthly / Annually | ₹ 150/810/1440 |
| Screener | Monthly /Quarterly/ 6 Monthly / Annually | ₹ 100/285/540/960 |
| Sensibull | Monthly | Free: 0 | Lite: 800 | Pro: 1300 |
| Streak | Monthly | Basic: 500 | Premium: 900 | Ultimate: 1400 |
| Kite Connect | Monthly | Connect: 2000 | Historical: 2000 |
| Pi Bridge | Monthly | ₹500 |
Zerodha Demate Charges 2020
S.NO
Particulars
Charges
1
Demat Account Opening Charges
₹0
2
Stamp Charges payable upfront (at actuals)
₹50
3
Annual Maintenance Charges (AMC):
a. Individuals
₹300 Per Year + GST (Payable upfront every year)
b. Corporates
₹1000 + GST (Payable upfront every year)
4
Transaction Charges per ISIN (Market Trades):
a. Buy (Receive)
₹0
b. Sell(Debit)
₹8 + ₹5.50 flat for every debit transaction
5
Inter Depository Transfer (Off-Market Trades):
a. Buy (Receive)
NIL
b. Sell(Debit)
0.03% or ₹25 whichever is higher
6
Demat (Per certificate)
₹150
7
Remat (Per ISIN)
₹150 (Per certificate) + CDSL Charges
8
Courier charges per Demat/ Remat request
₹100
9
Pledge per ISIN
₹20 + ₹12 per request (CDSL Charges)
10
Unpledge per ISIN
₹20 + ₹12 per request (CDSL Charges)
11
Pledge Invocation per ISIN
₹20
12
Periodic Statement:
a. By Email
Free
b. Physical
₹50 (Courier Charges)
13
Adhoc / Non-Periodic Statement Requests:
a. By Email
₹10 per request
b. Physical
₹50 per request up to 10 pages. Every additional page at ₹5 (+Courier charges at actual)
14
Delivery Instructions:
a. First Delivery Instruction Book
Free (10 leaves)
b. Every Additional Booklet
₹100 (10 leaves)
15
Cheque Bounce/ Per cheque
₹350
16
Failed Transactions
₹50 per ISIN
17
Modification in CML
₹25 per request
18
KRA Upload / Download
₹50
Frequently Asked Questions: