Zerodha Commodity Trading Review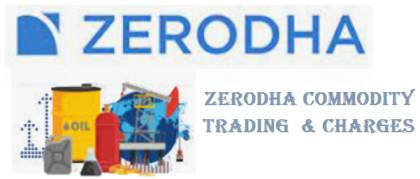 Commodity trading is one of the most critical types of trading and one of the good ways of investing beyond stocks. Commodities trading involved trading in energy, livestock energy, livestock, and agriculture. Commodity trading works slightly differently than traditional securities trading as it works via demand and supply.
Zerodha is a member of MCX which allows customers to trade in commodities like metal, bullion, Agri Products, Energy Products.
Zerodha offers online Commodity Trading through its mobile application and web-based platform.
Advantages & Disadvantages of Zerodha Commodity Offerings
Advantages
Zerodha offers zero Annual Maintenance Charges (AMC) on commodity account.
Zerodha commodity allows trading futures on Multi-Commodity Exchange (MCX).
If the trader wants to trade only commodities, there is no condition to open a Demat account.
The settlement is done in T+1 days.
There are no fees charged for inactivity on the Zerodha Commodity platform.
Disadvantages
The opening procedure of the Zerodha Commodity account is slow in comparison to other discounted brokers.
Zerodha Commodities covers only the Indian market.
Special Offer:
Brokerage free equity delivery trading + Flat ₹20 Intra-day and F&O trades.
Get the offer
Zerodha Commodity Charges
Zerodha Commodity (MCX) charges includes the commodity Trading account opening charges, Commodity brokerage charges, and other regulatory transaction charges and taxes as per the below table:
Zerodha Charges

Commodity Futures

Commodity Options

Account Opening Charges

Rs 100

Brokerage

0.03% or Rs 20/executed order whichever is lower
0.03% or Rs 20/executed order whichever is lower
Commodities Transaction Tax (CTT)
0.01% for Non-Agri products (on sell side)
0.05% (on sell side)
Exchange Transaction Charges
Group A: 0.0026%
Group B:
Castor seed - 0.0005%
Kapas (Cotton) - 0.0005%
Pepper - 0.00005%
Rbdpmolein - 0.001%
Exchange transaction charge: 0.05%
GST
18% of (Brokerage + Exchange transaction charges)
18% of (Brokerage + Exchange transaction charges)
SEBI Charges

Agri products: ₹1/ crore

Non-Agri products: ₹10/ crore

₹10/ crore
Stamp Duty
0.002% or ₹200 / crore on buy-side
0.003% or ₹300 / crore on buy-side
Call and Trade Facility
₹50/ order
₹50/ order
Zerodha Commodity Trading Margin requirement
Zerodha required the traders to deposit adequate margin in the Zerodha Commodity account in order to be eligible to carry on the Commodity orders.
W.E.F September 2021, Zerodha will impose a penalty if the margin is blocked in case it is less than 100% of the minimum margin value needed.
Zerodha Commodity account opening requirements
To facilitate the commodity account in Zerodha, one needs to open a Demat account in Zerodha. Once the account is open, the user needs to follow the below steps:
Enter your user id and password, followed by a six-digit pin.
Scroll down and click on "Segments" and click on "Commodity."
Click on continue.
To activate the Commodity account, you need to provide details of — gross income, trading experience, commodity trade classification, and income proof. In case if the income proof file is password protected, fill the password details on the "file password" column.
After the documents upload, you need to provide a digital signature via NSDL and Digio.
After the e-signature, you will need to enter the Aadhar Card number and validate the account by entering OTP.
The Zerodha Commodity account gets active within 48 hours.
Valid income proof approved by Zerodha (you need to upload anyone proof):
Last 6 months bank statement with an average balance maintained of more than INR 10,000.
Form 16 with gross annual income more than INR 1,20,000
A Demat account holding more than INR 10,000
Salary slip with a minimum monthly income of INR 15,000
ITR with a yearly gross income of more than INR 1,20,000
Investment certificates showing proof the neat worth of exceeding INR 10,00,000
Zerodha Commodity trading software
Zerodha is one of the largest and trusted India's discount brokers that offer commodity trading — MCX to traders, allowing them to trade in silver, copper, zinc, crude oil, gold, etc. In addition, Zerodha offers 3-in-1 trading options on its trading software, allowing the traders to trade in the commodity, equity, and currency.
Zerodha Kite — the fastest mobile application integrated with the best AI technology that allows the trades to trade efficiently in commodities. The Zerodha Kite trading software is suitable for all kinds of traders.
Zerodha Console — a multi-dimensions machine learning trading software, Zerodha Console offers world-class commodity trading and allows traders to understand the company history in one click.
Conclusion:
Zerodha offers one of the fastest and user-friendly commodity trading platforms that are suitable for beginners and experts. To start trading on Zerodha Commodity, the trader need to activate the commodity account online or offline and deposit sufficient margin to place an order.

Even though Zerodha is easy to understand for commodity trading, connecting with the financial advisor is advisable before starting trading on commodities.
Special Offer:
Brokerage free equity delivery trading + Flat ₹20 Intra-day and F&O trades.
Get the offer
Frequently Asked Questions: