Zerodha SIP Mutual Fund Investment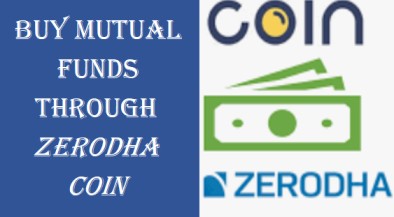 Mutual Fund is a financial tool made up of a collected pool of money from various investors that allows investment in equity bonds, stocks, and other assets. Mutual funds are managed by AMC (asset management companies), allowing the investors to partake proportionally in the units of funds allotted to them.
Mutual funds allow small or big investors access to a diversified professional portfolio at low rates. However, mutual funds don't allow the investors to vote, unlike the stockholders.
SIP (Systematic Investment Plan) is a method of investment provided to the investors by AMC to allow them to invest a fixed or lump sum amount for a specific period in the mutual fund's schemes and earn profits.
SIP allows the investors to create a sense of financial discipline and reap the benefits of the power of compounding, where a small investment for a longer time fetches a good return compared to a one-time investment.
Zerodha is a No 1 online discount broker in India. It also offers Mutual Fund investments to its customer through its platform 'Zerodha Coin'.
Coin by Zerodha is India's most prominent direct platform for mutual funds that allow investors to buy mutual funds directly from the AMC (asset management companies). Zerodha coins enable the investors to maintain one portfolio for their mutual funds, bonds, stocks, and currencies.
Zerodha Coin doesn't charge any account opening fees or commission as well as nil brokerage. However, there are various exit load fees charged by mutual fund companies.
Exit load is a fee charged by AMC's from the investors when investors decide to redeem their funds or exit the mutual fund SIP plan due to any reason. Though, not all the AMC charge exit load fees.
How to start a SIP mutual fund investment on Zerodha Coin?
Zerodha Coin works differently than other standard mutual fund SIP procedures.
The standard SIP model debited the SIP amount directly from the registered bank account on a date set by the investor. While Zerodha Coin only allows the SIP investment dates every month 1st, 5th, 10th, and 15th, the investor cannot choose any other date. Therefore, the investor needs to fund the Demat account to invest in SIP or lump sum mutual funds on Zerodha Coin.
Steps to start investing in SIP mutual funds on Zerodha Coin:
Login to the Zerodha Coin app. Enter your credentials.
Go to the search bar and type the company name or the fund house you wish to invest in.
Click on SIP or lump sum with your desired investment amount.
If you click on Direct SIP, the order page will have the details of your investments where you can choose the initial amount you wish to invest, the frequency of your investment — weekly, fortnight, monthly, or quarterly, and the total of investment you want to do or check on the box of until canceled.
Click on Start SIP. Confirm and invest.
Benefits of investing in Mutual Fund through Zerodha
Zerodha Coin is a dedicated platform for investors to invest in direct mutual funds that allows them to earn higher investment returns.
Zerodha Coin app is user-friendly built with seamless technology, and it is available for Android and iOS users.
There are nil charges for account opening, mutual funds annual maintenance charges + brokerage + DP charges + commission on Zerodha coin for its users.
The investors can either invest through a lump sum or a SIP investment plan in direct mutual funds of more than 40 asset management companies.
Zerodha coins allow the investor to modify, pause or stop the SIP investment at any point in time, except the SIP investment under the ELSS scheme, which has a three years lock-in period.
The investors are able to view their mutual funds and stocks on a single portfolio.
The investors can redeem or buy mutual funds based on the NAV (net asset value) set by them.
Zerodha Coin allows the mutual fund's payments through UPI, which is faster than NEFT payments.
Limitations of investing in Zerodha SIP Mutual Fund
Zerodha Coin operates via a Demat account; thus, the investors who want to invest in a direct scheme of mutual funds on Zerodha need to open a Demat account to start the investment. Zerodha charges INR 200 for Demat + Trading account opening.
Zerodha Coin doesn't have a facility for advisory services or research tips. Instead, investors need to perform market research on their own to learn about different schemes.
Conclusion:
Zerodha Coin offers excellent direct mutual funds schemes to its investors where they can choose funds from 40+ AMC's. Zerodha Coin doesn't charge commission or brokerage to its clients; therefore, you can save up to 2% commission.

SIP is an excellent way to start saving habits for the future or fulfill the financial goals of studies, marriage, buying a home, and many more. However, Zerodha Coin doesn't offer any research tips; thus, beginners need a financial advisor to guide them through the process. Also, Zerodha provides an online discussion forum and virtual learning guide for beginners.
Frequently Asked Questions: