Top 20 Best Stockbrokers in India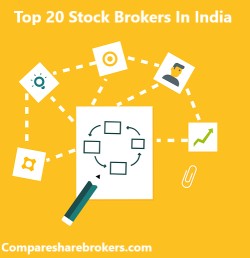 Any transaction in the share market, be it buy or sell, requires a broker's intervention who works as an agent between market and market participants. Security and Exchange Board of India popularly known as SEBI is the agency that regulates Stockbrokers and they need to register themselves with SEBI. There are a lot of Share brokers who have a Pan India Presence and they offer a varied range of plans and products to place them in the top 10 stock brokers in India.
These brokers are broadly divided into 2 segments, One "Full-Service brokers or Traditional Brokers" and the second one is "Discount brokers".
Full-Service Brokers: Traditional "full-service" brokers do more than just facilitate the buying and selling of a stock or bond. These brokers tend to offer a wide array of services and products, including financial and retirement planning, advisory and trading facilities in stocks, commodities, and currencies, investing and tax advice, and regular portfolio updates. Full-service brokers generally have a lot of offices and branches across the country, where clients can visit in case of any help required.
Discount Brokers: These brokers came into existence as a result of an increased preference for the Internet. A discount or online brokerage could be a better choice for Investors who are fee-conscious and prefers to go it alone without expert advice. These brokerages will generally not offer investment advice. With a discount brokerage, you can either execute a trade online automatically through a computerized trading system or call in your order with a broker over the phone— although the latter option will likely cost you more.
Special Offer:
Brokerage free equity delivery trading + Flat ₹20 Intra-day and F&O trades.
Get the offer
Top Stockbrokers in India 2022, Top 20 Share Brokers in India
| Rank | Top 20 Best Share Brokers | Active Clients | Equity Delivery Brokerage | A/c Op. Charges |
| --- | --- | --- | --- | --- |
| 1 | Zerodha | 6513036 | Free | Rs.200 for Online and Rs 400 for Offline accounts Opening |
| 2 | Upstox (RKSV) | 5596268 | ₹20/trade or 0.05% whichever is lower | ₹150 + GST |
| 3 | Groww | 4268383 | ₹20/trade or 0.05% whichever is lower | Free |
| 4 | Angel-One | 3926697 | Free | Free |
| 5 | ICICI Direct | 3135167 | 0.55% | Free |
| 6 | 5PAISA | 1727458 | Flat Rs.20 per executed order | Free |
| 7 | Kotak Securities | 1290410 | 0.25% or Rs 20 whichever is higher | Free |
| 8 | HDFC SECURITIES | 1156837 | 0.5% | ₹999 + GST |
| 9 | IIFL | 1139902 | Flat Rs.20 per executed order | Rs.250 + GST |
| 10 | MOTILAL OSWAL | 915264 | 0.5% | Free |
| 11 | SHAREKHAN | 757371 | 0.5% | Free |
| 12 | SBI Securities | 643626 | 0.5% | Rs.850 |
| 13 | PAYTM MONEY | 467814 | Free | Rs.200 |
| 14 | AXIS Direct | 417958 | 0.5% | Rs.900 |
| 15 | Market Wolf | 299954 | ₹0 brokerage if loss | 10% of the GP on profitable trade | Free |
| 16 | Choice Broking | 268212 | 0.2% | Free |
| 17 | GEOJIT FINANCIAL | 236567 | 0.3% | Rs.425 |
| 18 | EDELWEISS | 201574 | Rs 10 per executed order | Free |
| 19 | RELIGARE BROKING | 167249 | 0.50% to 0.10% | Rs. 500 |
| 20 | SMC GLOBAL | 162802 | 0.3% | Free |