Check reviews of other Share brokers
Special Offer:
Brokerage free equity delivery trades,
free tips
and flat Rs 20 intraday and F&O trade brokerage.
Open Instant Account
and start trading today.
Angel One's Trading Platform & Tools
It offers trading platform across devices including install-able desktop software (), HTML based trading platform and mobile App.
Angel One Research and Advice / Trading Tips
Research and Advice / Trading Tips
Angel One Trading Platform
Trading Platform
Angel One offers 5 trading platforms to its customers
Angel Eye-Angel Ones Browser-based Trading Platform
A browser-based portfolio tracking & trading application with various features including a common screen for all segments, regular market updates etc.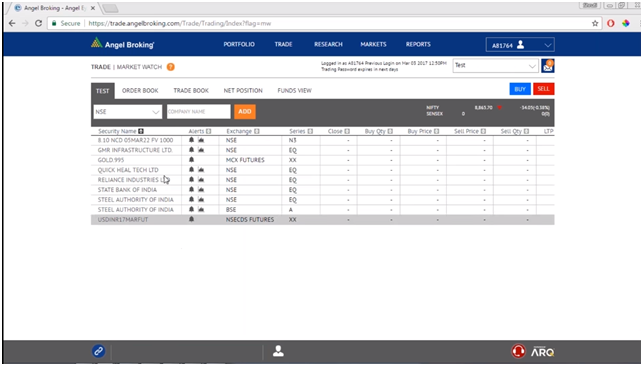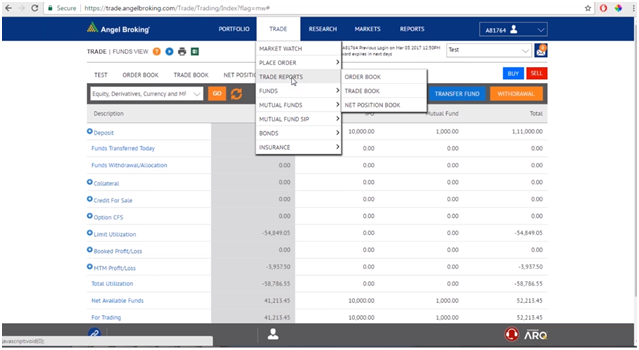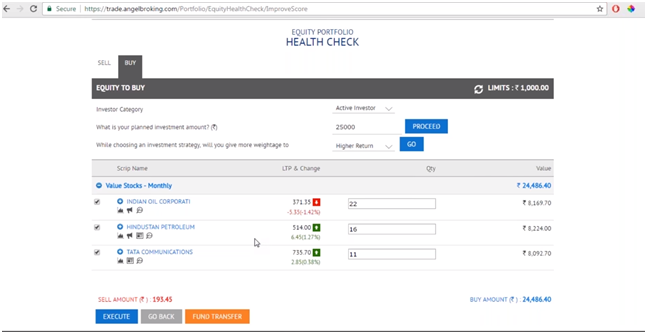 Angel SpeedPro- Angel Ones Terminal Based Trading Platform
An application trading platform that provides automatic updates; makes the market accessible to investors from different terminals along with other features.
REAL TIME RATE UPDATES: Keep the market on your finger-tips with live streaming rates. Experience the power and speed of instant trade execution and reports.
MY PORTFOLIO DETAILS: View Scrip-wise buy price, day's gain / loss and overall profit / loss to view you're holding portfolio at a glance.
APPLY ONLINE MF: You can invest or redeem Mutual Funds anytime - right from here, with convenience & ease.
Instant news notification on stocks and markets
Easy installation & update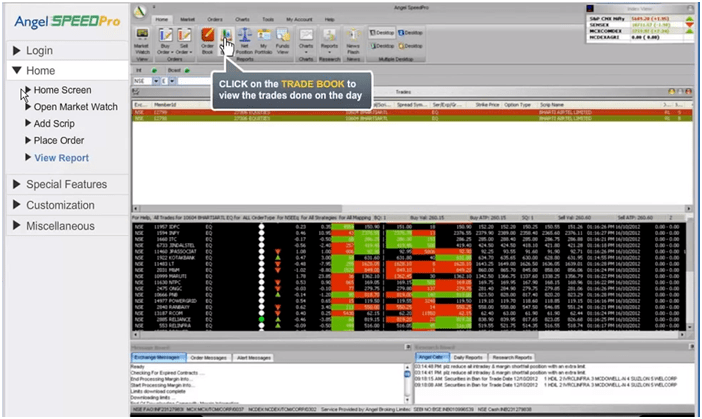 Angel Trade-Angel One's Browser-based Trading Platform
It is a browser based trading platform. The rates are updated automatically. This platform is useful for investors & traders to access market from different terminals.
TRACK PORTFOLIO: Get automatic updates of all transactions, analyse your portfolio, calculate realised & unrealised gain, maintain contract notes, ledger and much more.
TRADE ONLINE: Get an integrated trading experience. Buy & sell stocks, trade in Commodities & Currency, invest in Mutual Funds from this single platform.
ANGEL RESEARCH & MARKET INFO: Get up-to-date market information, live news from over 1.5 million sources, comprehensive research reports, model portfolio, calculators and more.
Get timely alerts & reminders
Add and manage wealth of entire family with a single login
Stock screeners and interactive charts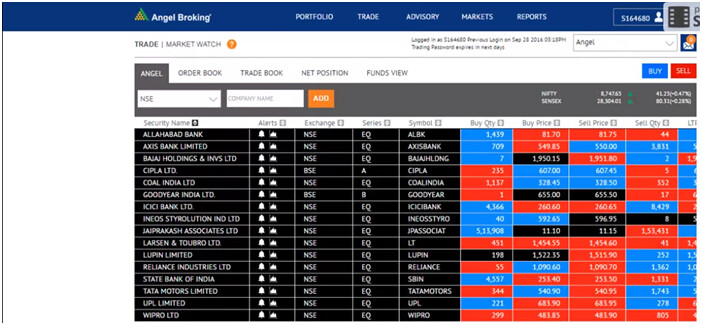 Angel Trade-Angel One's Mobile Trading App
A browser-based mobile trading tool that can be used with low GPRS connectivity. This platform provides facility to view live rates, last traded price and % change of your stocks.
Angel Swift-Angel One's Mobile Trading App
An app for accessing the markets and for trading using smart phones and other tablet devices. This is a Mobile trading platform for mobile applications. Trading can be done on Equity and Commodity Market using this platform. Angel One mobile app, powered by ARQ - Hi-tech auto advisory engine. ARQ helps you to stay invested in the top performing stocks and mutual funds all 365 days of the year, while the smarter trading platform makes online trading Simple, Speedy & Secure. You also get alerts to rebalance your portfolio along with in-depth market analysis & advanced charting to help you beat the market. Innovative features like faster stock-tracking with multiple watch lists, auto news updates & real time fund transfer-ability through 40+ banks, empower every Angel One mobile app user with the freedom to trade on the go, instantly with 100 % convenience.
Live streaming prices
ARQ - Personalized advisory offering index-beating returns
Intraday charts with Indicators
Online Payment vide 40+ Banks
Quick and easy fund transfer with Savings Account
Multiple Watch lists across segments
In-depth Reports of Indian & Global Markets
Instant News Updates
Market Trends to help you keep a tab on every movement in the market
Invest in Mutual Funds
Profiling based mutual funds advisory.
View your Funds summary reports and Mark payout for your holdings
View your detail Profile information
Now track your basic portfolio for Equity and Mutual funds.
View advisory calls,detail research reports.
View Basic ratios and last 5 corporate actions for stocks.
View detail research reports.
View Basic ratios and last 5 corporate actions for stocks.
Introducing One Tap Access. Access portfolio, reports using a One Time Password(OTP). Register once and get direct access to all Non-trading information in the app. Its as simple as a single TAP.
Use our chart component to get the detailed insight on stocks. View historical charts with OHLC and Candlestick.
View Basic ratios and last 5 corporate actions for stocks.
Use around 40 technical chart indicators and overlays to help you analyze each and every aspect of the stocks.
Now Improve your Equity and Mutual fund portfolio performance with ARQ based Portfolio health check utility and give yourself a chance to maximize returns.
View our improved stock ARQ section with various investment buckets. Choose from various rebalancing frequency to maximize returns.
Now receive personalized notifications for trades and ideas. Receive daily news to keep you up to date with Markets.
Now access last 10 transactions for Ledger, DP and Funds reports directly from the app.
Now track your derivative portfolio through the Angel One Mobile App.
Get personalized ARQ notifications on basket maturity.
Experience all new ARQ with better user profiling and ability to invest into direct stocks.
Quick access to Portfolio in Market section.
New visually ergonomic font for LTP in line with international trend.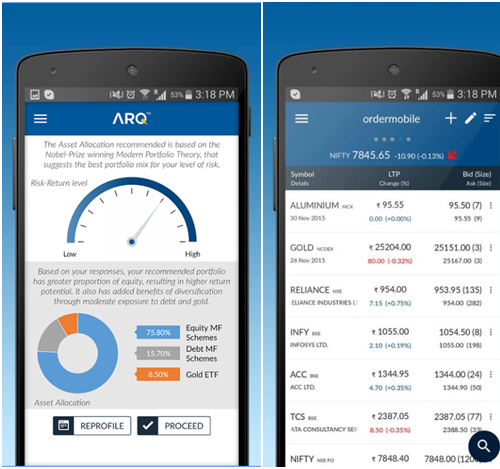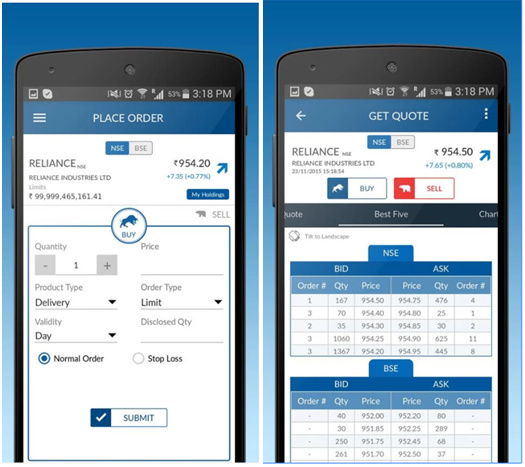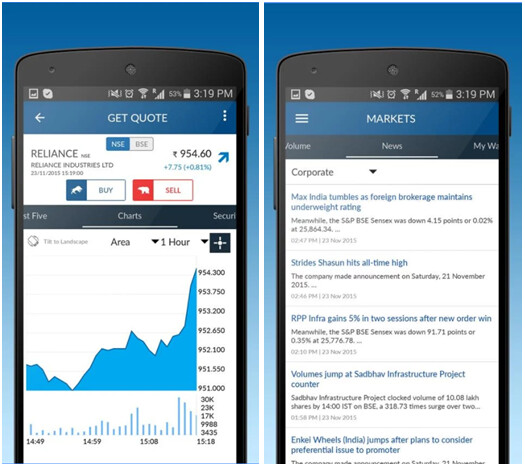 Angel One Special Offer:
Discount Brokerage Plan (Flat Rate Pricing)
Get a full-service trading account with discount broker pricing. Pay Rs 0 brokerage for equity delivery and flat Rs 20 brokerage for Intraday and F&O trades. Get high-quality research reports and personalized services for free. Open Instant Account and start trading in just a few minutes.