Check reviews of other Share brokers
Special Offer:
Trade @ flat Rs 10 per order + FREE Trading Tips + Rs 0 Account Opening Fee.
Open a
Free Demat Account
in just 15 Minutes
.
Edelweiss Online Trading Platform & Tools
It offers trading platform across devices including install-able desktop software, HTML based trading platform and mobile App.
Edelweiss Research and Advice / Trading Tips
Research and Advice / Trading Tips
Edelweiss Trading Platform
Trading Platform
Edelweiss Terminal X3- Edelweiss Terminal Based Trading Platform
Terminal TX3 is terminal based software that can be installed on your system. It gives live streaming, and you always remain up to date with market news and analysis. Edelweiss says that it is a desktop trading software with an X factor" TX3 is derived it name from its three amazing quality of high speed, insightful data analytics, and super advance charting. This terminal software is provided at zero charges to all Edelweiss clients.
Why Edelweiss Terminal X3?
Seamless Share Market Scanners: You can get in-depth information about the share market. Seasonal analysis, advance-decline ratio, trends in FII and DII flow, sector performance, top gainers and losers and many other things.
Advanced Charting: Multiple types of charts available for analyzing 60+ advance technical indicators and drawing tools.
Live portfolio and report: You track your live performance of your portfolio which helps in taking an instant decision. You can download ledger, statements, Bills, etc. from TX3
Dedicated research section: It contains a part which talks about research and reports of the extensive list of companies by experts. Also, you can do executive research call by just a click.
Advanced Tools: Edelweiss has provided the advance tool so that you can take a perfect decision by being always alert with market movements. You can use option calculator and event calendar for timely trade decision.
Customizable workspace It has customizable workforce. You can choose how your work station will look like and is capable of being converted into widget size box.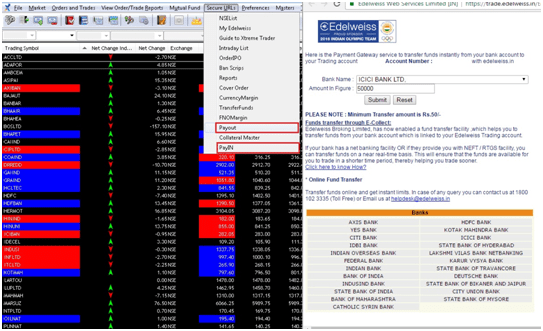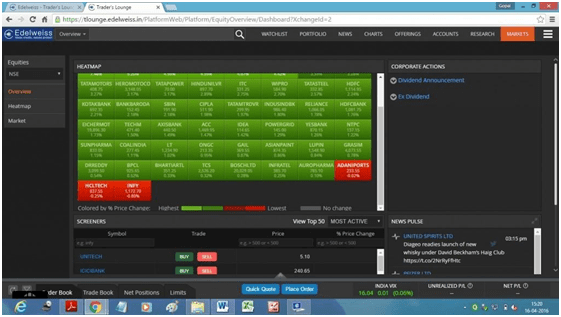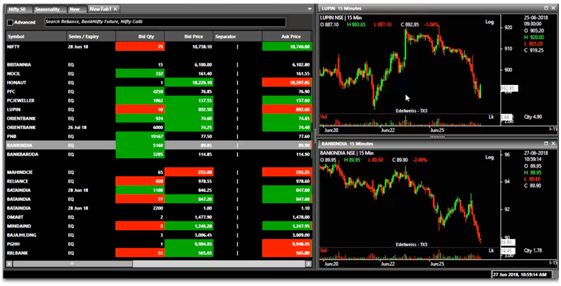 EDELWEISS.IN- Edelweiss Browser based Trading Platform
In case you don't have access to your personal gadget, you can anytime login on browser-based platform and get updates on the market and see the LIVE situation of your purchases. You should always keep your Login and password and handy. Also, one should never forget to log out, if not using personnel gadget.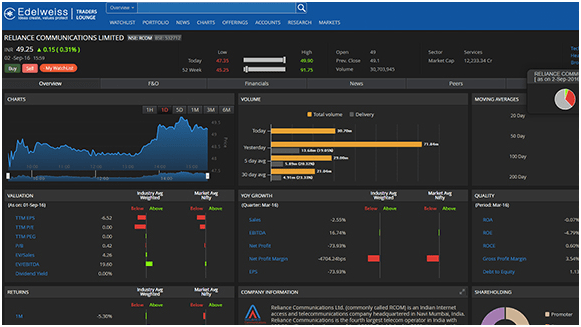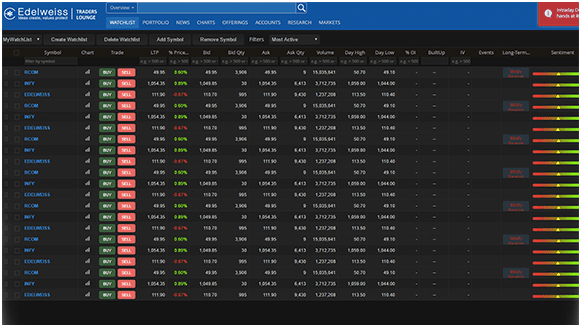 Edelweiss Mobile Trader-Edelweiss Mobile Trading App
Edelweiss mobile trading app is available in IOS as well as Android version. For running it in android phone, you should have 4.0 or higher version and in IOS version should be 7.1 or later. This app following features:
Why Edelweiss Mobile Trader?
1.Three steps mobile trading:This app is user-friendly and is quick. You have to select the quantity and hit submit if you want to purchase or sell shares or have to do any other transactions.
2.Live data is available: Similar to browser-based and terminal based software, the trading app also have live streaming of information on market conditions.
3.Easy Login: Edelweiss has provided a single login for commodities as well as equities which ease the trading process as you don't have to maintain different apps for different them.
4.Massive information: All information is just a click away. All information which is helpful for you to take any decision is available in this app. You can make instant decision for any aggressive movement f the market.
5.Stock trading and chart: It provides tick by tick intraday chart and also gives you 17 most popular technical indicators and overlays.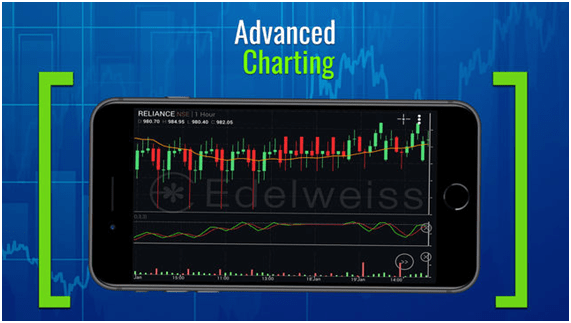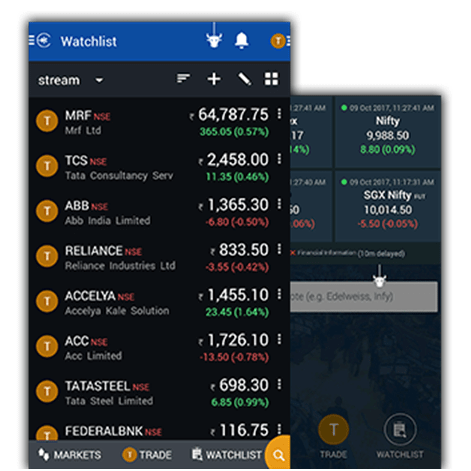 Edelweiss Special Offer:
Trade @ Rs 10 per order + FREE Trading Tips + Rs 0 Account Opening (for limited time only)
Flat Rs 10 per trade across all segments.
FREE Research and Trading Tips.
Margin against share and Margin Funding available.
It is a limited-time offer. Open FREE Edelweiss Account online in just 15 Minutes.