Check reviews of other Share brokers
Special Offer:
Invest
brokerage-free Equity Delivery and Direct Mutual Funds
(truly no brokerage). Pay flat Rs 20 per trade for Intra-day and F&O.
Open Instant Account
online with Zerodha and start trading today.
Marwadi Brokers Online Trading Platform & Tools
Marwadi group provide online trading platforms to their customer for the ease and mobile trading anything and anywhere. We have highlighted the facilities provided by them in the chart mentioned below and further in the latter section; we have explained the trading platform provided by Marwadi Shares and Finance Ltd. In detail.
Marwadi DIET- Marwadi Brokers Terminal Based Trading Platform
This is a terminal based platform for the one whose main business is dealing in stock trading and has an interest in the stock market; This software is swift and easy to use. Facility available on this platform is BSE Cash, NSE Cash, NSE F&O, MCX, NCDEX. Incase of any kind of support required for running this software, you can contact their dedicated customer care team, and they will provide the required help to provide you user-friendly trading experience.
Marwadi Click Web- Marwadi Brokers Browser based Trading Platform
Marwadi click website is available to all the traders and is suitable to those who are not very frequent in trading. All the facility which are available on any other platform is available on this platform as well. The facility was available for BSE Cash, NSE Cash, NSE F&O, NSE currency products. You can click on the link mentioned below and put in your ID and password to start trading: https://mtrade.marwadionline.com/html5/.
MSFL Connect-Marwadi Brokers Mobile Trading App
This is the app available for the Marwadi clients and can be downloaded from the link (https://play.google.com/store/apps/details?id=com.wave.marwadi&hl=en). They have developed the app for both I phone and android user with great UI/UX. You can get real-time information along with all research & reports. Fund transfer and portfolio tracker facility is also available.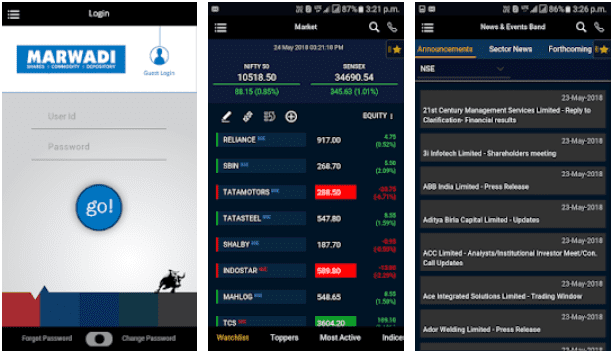 Marwadi Group Research and Advice / Trading Tips
Research and Advice / Trading Tips
Marwadi Group Trading Platform
Trading Platform
Zerodha Special Offer:
Free Equity Delivery Trading and Mutual Funds
Brokerage-free Equity Delivery and flat Rs 20 per trade for Intraday & F&O +
Brokerage-free Direct Mutual Fund investment +
Trade with the best trading platform in India.
This is a limited-time offer. Open Instant Zerodha Account online and start trading today.