SAMCO Trading Platform & Tools
It offers trading platform across devices including install-able desktop software (SAMCO Trader), HTML based trading Platform (SAMCO Web) and mobile App (Stock Note App ).
Special Offer:
Flat ₹20 Brokerage per executed trade + Free Account opening and Zero Demat AMC for 1st Year.
Get the offer
SAMCO Research and Advice / Trading Tips
Research and Advice / Trading Tips
SAMCO Trading PlatForm
Trading PlatForm
SAMCO Trader: A Terminal-based trading Platform
SAMCO Trader is a Desktop EXE application for Windows PC. The client's need to download and install the software to do the trading.
SAMCO Trader is a desktop base trading terminal from OMNISYS NEST. You can trade in BSE/NSE/MCX. This is a downloadable version or exe based terminal.
Key Feature of SAMOC Trader
Market Watch
Snap Quote

Best 5 Bid and Ask
52 Wk High and low
Open, High, Low

Buy and Sell Order
Reports

Order Book
Traded Orders
Top N Gainers and Losers
Account Balance
Net Positions
Bulk Trades

Options Calculator
Advance Charts

Intraday Charts
Historical Charts

Write in Excel
Alerts ‐ Set Alerts
Bracket Orders
Cover Orders
After market orders
News and Notifications
Market Monitor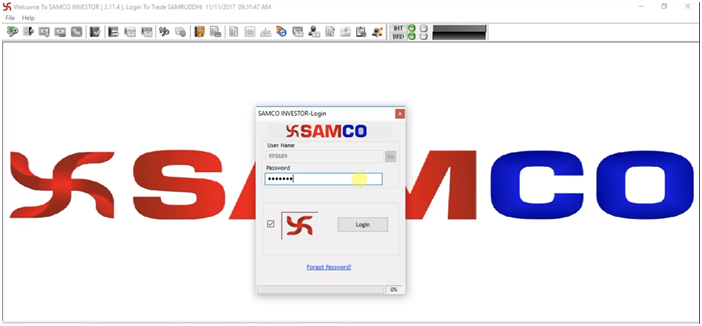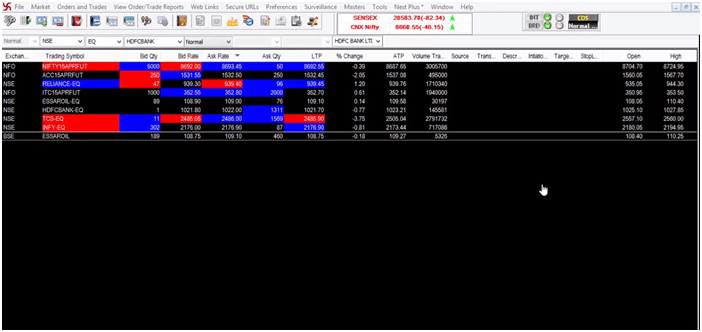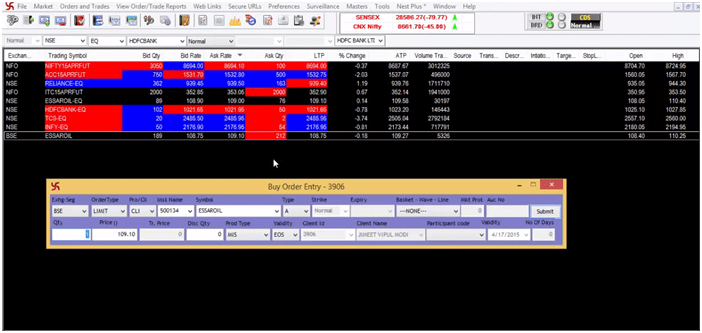 SAMCO START – Back office software
It is software by the SAMCO. The customer can log in into it by visiting their website http://star.samco.in/login link. By login in into it you can know about your all the trade details and get the whole knowledge about the market data with other various facilities.
Fund Transfer
Portfolio ‐ Equity NAV and Commodity NAV
Profile
Referrals
Ledger
Reports
SAMCO Web – A browser based web trading platform
The SAMCO Web Xpress is a browser based trading platform for desktops and tablets. For traders whose corporate firewalls block the SAMCO Trader, the SAMCO Web works as a perfect alternative platform.
Key Feature of SAMOC Web Xpress
You can login on SAMCO Web Xpress via - https://trade.samco.in/Samruddi/Login/indexauth.jsp
Single Platform for NSE, BSE.
Can Trade in Equity, Derivatives, Currency.
Advance Orders – Bracket Order & Trailing Stop loss Order
Square Off at Market for Bracket Order.
Market Watch – Real Time Refresh of Scripts
Buy and Sell Scripts from market watch window on single click
SAMCO StockNote – SAMCO Securities Mobile App – Mobile App for iOS and Android
SAMCO StcokNote is an online trading mobile app from SAMCO. The app is designed to keep all type of users i.e new investors as well as professional investors. The design is very slick and the app is very fast to trade. Powered with Giga trading engine, an artificial Intelligence application to provide opportunities, patterns & market trends. The overall user experience for StockNote is positive.
Stock Note creates a real time financial news feed for each customer after browsing online through many news sources. Additionally, users are empowered with recommended stories, technical analysis & fundamental analysis of stocks. Based on the economic calendar on Global and Indian Markets, StockNote generates thousands of breaking news reports including quarterly results & financial analysis.
SAMCO StockNote is available on both Android and iOS version. This Mobile App is available for free for registered and non-registered (Guest) customers.
Why should you use Samco Stock Note?
Simple & quick on-boarding
One Touch Trading
Traders can watch news & also keep track of most viewed notes by fellow Traders/Investors in the community.
Traders can personalise & customise everything across the app which includes the stock note feed, market watchlist, portfolio, settings and thereby each trader can create a unique app personalised to their needs installed on their phones.
If any trade is declined, the Giga Trading Engine suggests the most viable solutions for the declined trades. Further, all solutions can be implemented by a single tap on the app. Also, customers are prompted and hand held at each stage on the next steps that can be taken.
Easy information sharing
Easy Portfolio Monitoring
Advanced Charts and intraday charts
Real-time streaming quotes
Security and digital contract notes
Check available limits and total margin on your account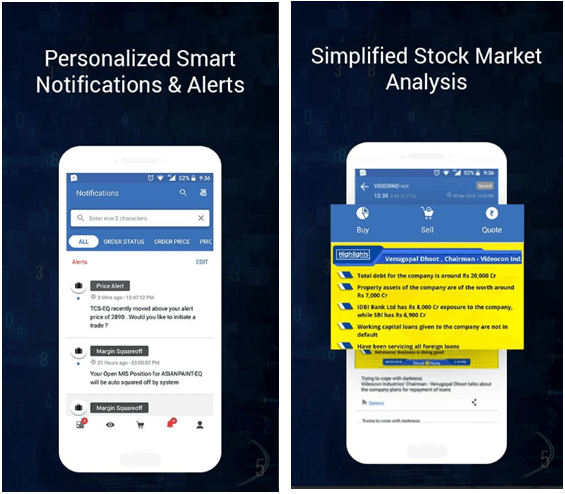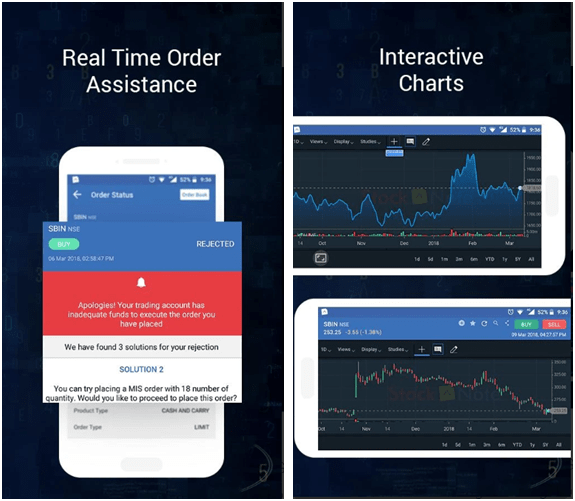 Special Offer:
Flat ₹20 Brokerage per executed trade + Free Account opening and Zero Demat AMC for 1st Year.
Get the offer