Check reviews of other Share brokers
Special Offer:
Invest
brokerage-free Equity Delivery and Direct Mutual Funds
(truly no brokerage). Pay flat Rs 20 per trade for Intra-day and F&O.
Open Instant Account
online with Zerodha and start trading today.
SMC Global's Online Trading Platform & Tools
It offers trading platform across devices including install-able desktop software, HTML based trading platform and mobile App.
SMC Global Research and Advice / Trading Tips
Research and Advice / Trading Tips
SMC Global Trading Platform
Trading Platform
SMC Global provides three different platforms through which you can trade. These platforms are easy to use and have various features. We are enumerating these features to you below:
SMC Privilege- SMC Global Terminal Based Trading Platform
SMC Provide terminal based software for trading. They have named it a SMC privilege. You don't have to face the hassle of going and login out every time. Just download this software, and you can trade anytime and anywhere without any restrictions.
Why SMC Privilege?
It provides you with quick and secure trading experience for the investors are actively involved in trading.
One can customize your trading experience and give it a personalized touch by adding live streaming rates to charting preferences, market updates, etc.
You can check live market updates using this feature
It is a fast and convenient way to track your favorite stocks and daily reports.
This software also contains technical SMS alert other various facilities
SMC Easy Trade WEB- SMC Global Browser based Trading Platform
SMC Global provides web browser based trading platform which is built on the latest HTML5 technology and is easily accessible on mobile, desktop & tablets.
Why SMC Easy Trade WEB?
You can customize your dashboard according to your needs and requirements
Real-time market movement and news are trackable through web-based browsers
They have provided a user-friendly navigation bar
The online fund's transfer is easy and safe on this platform
SMC Easy Trade Mobile-SMC Global Mobile Trading App
SMC Global has launch trading app by the name of SMC Easy Trade. It is compatible with Android and IOS devices with the size of 5.9MB and 46.8MB, respectively. For Android, it requires 2.2 & up and 5.1.1 or later version in IOS.
Why SMC Easy Trade Mobile?
You customize the dashboard as per your needs
Safe for all monetary transaction
Intraday and other real team charting is available on the app
You will get research notification
You can trade in multiple segments on the single screen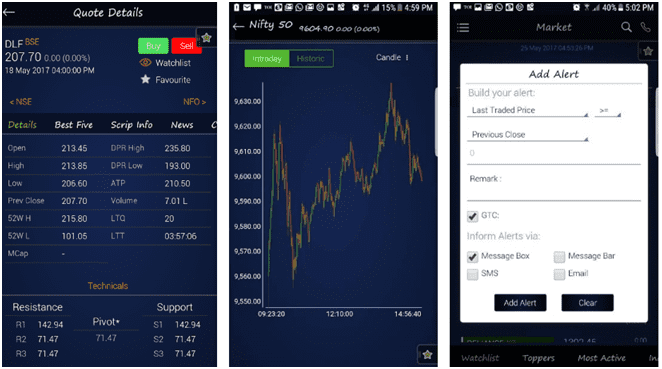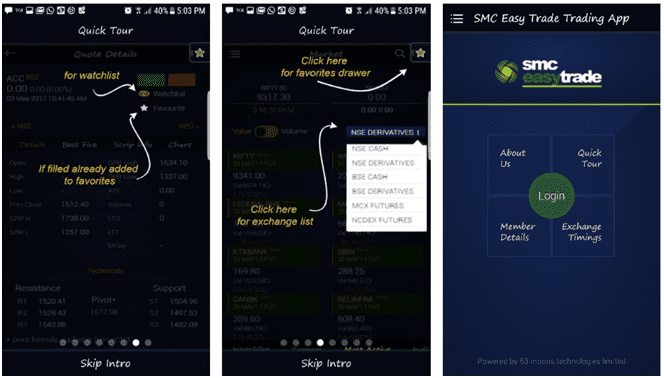 Zerodha Special Offer:
Free Equity Delivery Trading and Mutual Funds
Brokerage-free Equity Delivery and flat Rs 20 per trade for Intraday & F&O +
Brokerage-free Direct Mutual Fund investment +
Trade with the best trading platform in India.
This is a limited-time offer. Open Instant Zerodha Account online and start trading today.