Check reviews of other Share brokers
Special Offer:
Invest
brokerage-free Equity Delivery and Direct Mutual Funds
(truly no brokerage). Pay flat Rs 20 per trade for Intra-day and F&O.
Open Instant Account
online with Zerodha and start trading today.
Zerodha's Online Trading Platform & Tools
ZERODHA Mobile App-Kite Mobile, Browser based Trading-Kite 3.0 and Desktop-Trade Racer Review 2023
It offers trading platforms across devices including installable desktop software (Trade Racer ), an HTML-based trading platform (KITE 3.0) , a mobile App (Kite Mobile) and a trading platform for investment in mutual funds (COIN).
Zerodha Research and Advice / Trading Tips
Research and Advice / Trading Tips
Zerodha Trading Platform
Trading Platform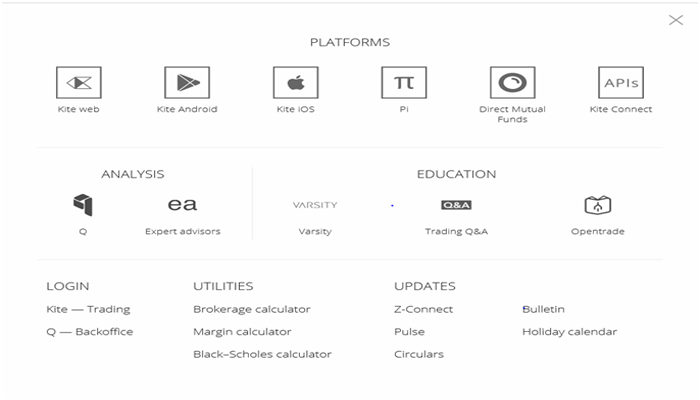 Zerodha Kite:Zerodha's Browser-based Trading Platform
Kite is a web based HTML5 trading platform developed by Zerodha, launched in September 2015.It is described as a "minimalistic cross-platform application", in addition to being India's first multilingual trading platform which gives leverage to most of the regional language options i.e. Kannada, Hindi, Gujarati, Bengali, Malayalam, Tamil and Odia.
Kite is very light, responsive but at the same time very powerful web & mobile trading application it comes with the following features:
Why Zerodha Kite?
Works at a bandwidth consumption of less than 0.5kbps

Provides extensive charting with over 100 indicators and 6 charts type

Advanced orders type like Brackets & Covers.

Millisecond order placement.
Zerodha Kite dashboard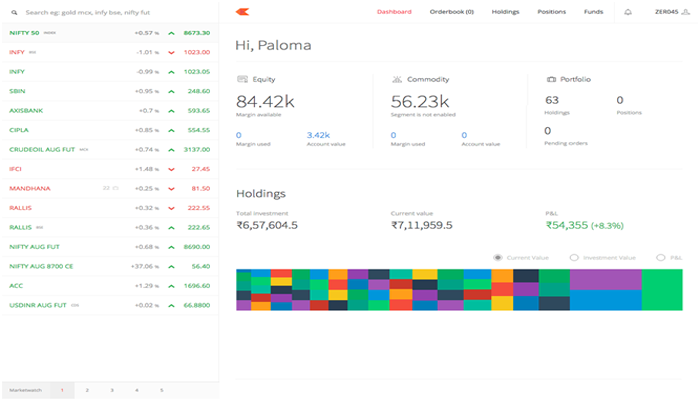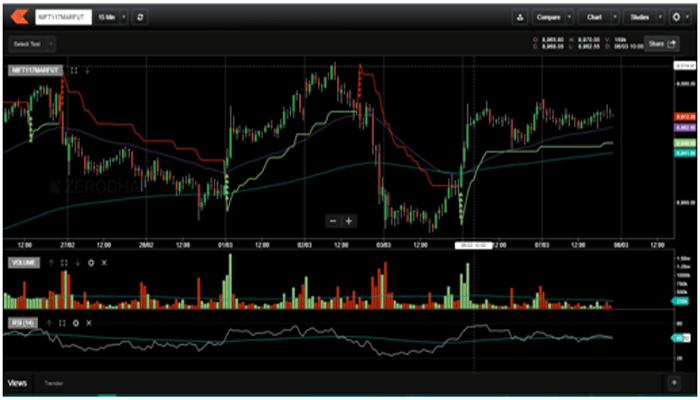 Zerodha Kite Charting
Kite is a platform where you can create the multiple watch lists, analyse them and can compare charts and share them too. Kite also has 100+ technical indicators. The kite is not having the desktop tools, but it comes with the package of bracket and cover order which is very good for the beginner trade or the seasoned trader.
Zerodha Kite Mobile:ZERODHA Mobile Trading App
Zerodha will give you a pretty good experience of the kite on their mobile app, which is kind of similar to the web version and it's so easy to understand and looks beautiful on your mobile screen.Charting also looks good on your mobile devices.
Why Zerodha Kite Mobile?
One-tap universal instrument search for all contracts across all exchanges -- NSE, BSE, MCX.

Live streaming data.

Multiple MarketWatch and live market depths.

Advanced chart with 100+ indicators.

Years worth of free historical chart data.

Trade Equities, F&O, Commodities, Currency.

Various order types: Regular, AMO, BO (Bracket orders), CO (Cover orders).
Kite Connect, India's first market APIs for retail clients.
What is Kite Connect ? :Kite Connect is a set of simple HTTP APIs built on top of Zerodha's exchange-approved web based trading platform, Kite. It enables users–clients of Zerodha–to gain programmatic access to data such as profile and funds information, order history, positions, live quotes etc. In addition, it enables users to place orders and manage portfolio at their convenience from an interface of their choice.
Zerodha Open Trade :This is unique proposition by the discount broker where a user can get real time update from profitable traders so that they can learn and improve their trading skills and thus, take better decisions. Pick and follow traders based on their trading style and verified profitability report. A great way to improve trading skills
How does it work? Open trade is an extension of Zerodha's open education initiative, Varsity. They have selected and featured star traders from their client base by screening their real portfolios and trading history. On Opentrade, you get realtime notifications when they make a trade with details of the trade.
Is there a cost involved? Yes, there is a subscription for following stars. This is in the form of credits, which you can buy in bundles. It costs 1 credit to follow 1 star for one month. We share a significant portion of the costs with the stars in return for their participation. You can see the prices once you login.
How does it help me? Our star traders have been consistenly profitable with positive track records. Trading is a skill, and it may not be easy to teach it to someone. However, observing a skilled trader and monitoring their portfolio passively without interfering with their trades may help you understand what makes them tick.
Thus, Opentrade gives you an opportunity to track such stars realtime, study their trades and habits, and gain trading insights for yourself. Who knows, tomorrow you could be a star yourself.
how it works?
Clients of Zerodha who have a positive track record on their accounts (stars) with us may opt to register on Opentrade. They will select the best traders after careful scrutiny. Their identities will be kept anonymous, and they will all be called by unique star names – Sirius, Canopus, etc.
The stars will be tagged based on the nature of their trades – investor, arbitrageur, swing trader, etc.
The Quant reports of their trading activities at Zerodha will be made public on the platform.
All clients of Zerodha will now have an option to analyze these reports, and follow their favourite stars for a subscription fee that will be shared with the stars.
From the time you start following a star, you will get his/her real-time trade updates via Email and on the platform. You will also be able to track all open positions and holdings of the stars.
ZERODHA Pi : Zerodha's Terminal Based Trading Platform
PI is a desktop trading application that comes with features such as Trading, charting, scripting and analysis. Users are required to download the software on their desktop or computer. This is known to be one of the high performance trading application with:
Why ZERODHA Pi?
High speed order execution
Varied features around fundamentals and technical analysis including charting with 80+ technical indicators.
Market watch provision
Personalized notifications & alerts
Zerodha Pi charting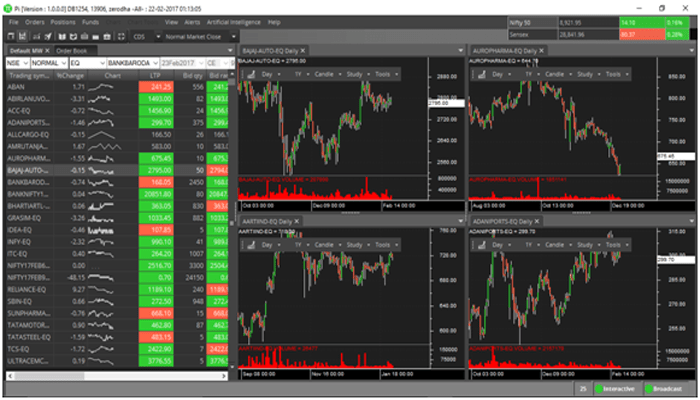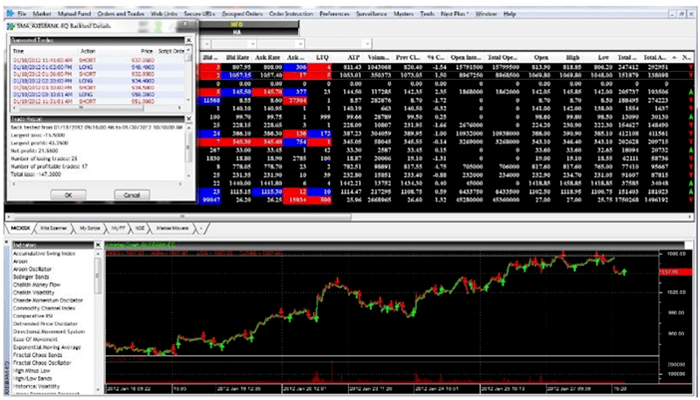 Zerodha Quant
As the saying goes "Know yourself to improve yourself".
Quant is one of the best platform Zerodha has ever created. It is your personal trading analytics tool which essentially plots all your trades and so that you can learn by analyzing your good and bad trades.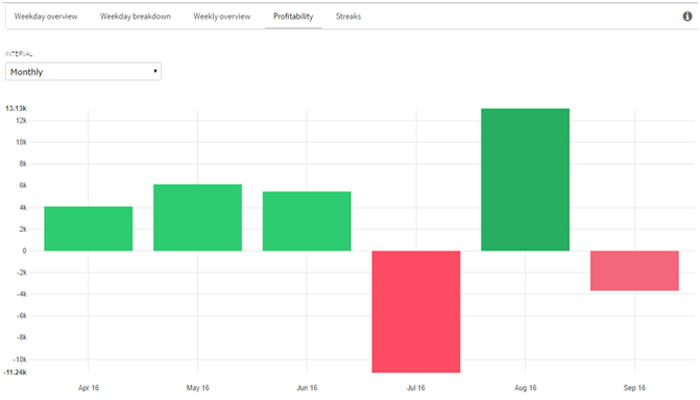 Zerodha Coin: Zerodha's direct mutual fund's platforms
Zerodha recently launched their direct mutual fund's platforms called Coin. You can now invest in the mutual funds without paying any commissions.
No commissions whatsoever on your investment – either upfront or trail.
Direct mutual funds in DEMAT form, with convenience of one portfolio across equity, MF, currency, etc.
Single capital gain statement, P&L visualizations, and more.
Easy SIP – start, stop, modify anytime you want.
NAV tracking orders. Similar to stocks, place orders to purchase or redeem funds based on NAV.
Flat fees of just Rs 50/month for subscribing to Coin irrespective of number/value of MF transactions across all fund houses. Moreover, your first Rs 25,000 worth of investments is absolutely free.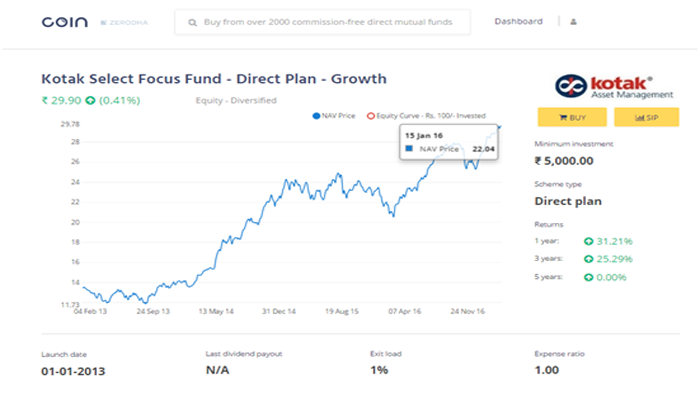 Zerodha Special Offer:
Free Equity Delivery Trading and Mutual Funds
Brokerage-free Equity Delivery and flat Rs 20 per trade for Intraday & F&O +
Brokerage-free Direct Mutual Fund investment +
Trade with the best trading platform in India.
This is a limited-time offer. Open Instant Zerodha Account online and start trading today.
Frequently Asked Questions:
Please visit -https://kite.zerodha.com/ or Download Kite Mobile APP from Store

Enter your Login ID & Password provided by Zerodha

The system would ask you to Set the Security question

And prompt you to reset your password and set PIN number as well

Once you complete this than you are good go and can explore Kite Dashboard

Open Instant Account (Start Trading Today)