Check reviews of other Share brokers
Special Offer:
Invest
brokerage-free Equity Delivery and Direct Mutual Funds
(Zero brokerage). Pay flat Rs 20 per trade for Intra-day and F&O.
Open FREE Demat Account
online with Fyers and start trading today.
FYERS Trading Platform & Tools
It offers trading platform across devices including install-able desktop software (Fyers One), HTML based trading platform and mobile App (Fyers Market).
Fyers Research and Advice / Trading Tips
Research and Advice / Trading Tips
Fyers Trading Platform
Trading Platform
Thematic Investing at Fyers
Thematic Investments is the unique concept in the stock trading industry in which similar genre of stocks or company are group together and is put under a single theme. Generally, these are the growth-oriented scheme and leads to high capital appreciation though it reduces the portfolio diversification.
For instance: You have a keen interest in the banking industry. You have speculated that it is going to soar high and want to invest in banking theme. In this case, your money will be invested equally on all banking company which will is listed under the banking theme. At FYERS you can get more than 100 themes each with less than 20 stocks.
The concept of "Thematic Investing" can be compared to mutual funds or ETFs where the set of companies are group together under one name, and you have to choose that broad name rather individual company.
How does Thematic investing works?
Broker research & analyze the market data and prepare themes so that he can group the companies.
After preparing themes, he will list down top profit making companies of that particular industry in the related theme.
Investors choose a theme and invest in it.
The broker invests the money in to the individual stocks part of the theme in the proposition identified in theme.
Why Thematic Investment:
Thematic investment is very profitable to the individuals or corporates who have in-depth knowledge of any particular industry or sector and can speculate it movement very correctly.
It broadens your portfolio of selective industry, reduces risk and brings maximum gain from your hard earn money.
Investing in theme do not give you the additional burden of charges. It is free of cost. Therefore, you should use the privilege of thematic investment.
Thematic investment is the result of expert knowledge and in-depth analysis. You should always take advantage of experts' knowledge.
FYERS WEB-Fyers Browser-based Trading Platform
As the name goes, it is our web trading platform with a seamless, smooth and flexible trading workflow. The feature of this application includes portfolio tracker, auto-screened option strategies (multi-leg Orders) and live data feed. It excellent user interface and is compatible with all browsers, software & devices. FYERS web is for the people who cannot sit in front fo their laptop for the duration to track the market movement. They can simply log in to the website from any device and keep themselves updated with all the news.
Why Fyers Web?
Advanced Charts:Get the most advanced charting platform with 70+ indicators and historical EOD data of 20+ years, all on the web!
Simple User Interface
The first of it's kind, Price Ladder Trading: Price Ladder Trading is a game-changer for intraday traders! You can now visualise price action before punching orders
Trade From The Chart : Place, modify, cancel and monitor orders from the charts!
FYERS One Trading Terminal:Fyers Terminal-based Platform
FYERS ONE is the terminal based trading software which you have to install on your laptop or desktop. Professional traders prefer to work on the trading software rather web-based platform or mobile application.
Why Fyers One?
Advanced Charting : Advanced charting with historical EOD data of up-to 5 years and intraday of up-to 30 days (1 min & 5 min). Use more than 60 technical indicators and other cool features which will add the third dimension to your analysis and decision making. Ours is the only platform to provide intraday charts for indices.
Full Overview: It gives the entire view of the market data and analysis which provides the third dimension to our decision of investment in stock trading. You can use information such as Indices and maps, performance table, R&S Levels, etc.
Technical Screeners: There are inbuild stock screeners who will help you to scrutinize market information & trends.
Market 360 degrees :360-degree information for the market is just a click away from you on this software.
Knowledge First : You can get real-time update from stock exchange on upcoming board meetings of companies.
Portfolio Simulation :"Portfolio Tracker" is an important tool for all the investors to keep a hawk eye on all the stock in which you have invested. This tool helps you to analyze your investment from a single dashboard as well as helps you to learn stock trading without any tuition fees.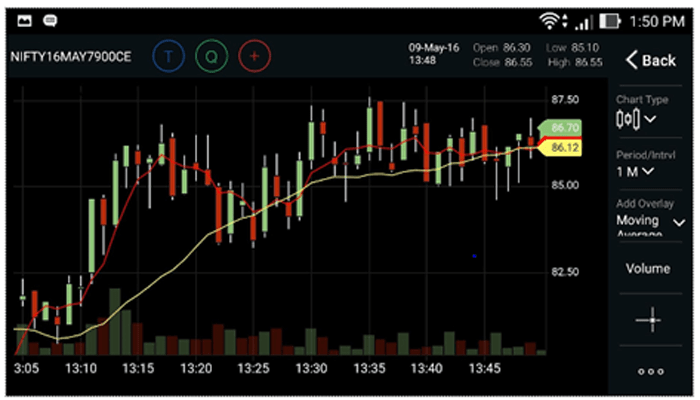 FYERS Market-Fyers Mobile Trading App
FYERS mobile trading app is compatible with IOS and Android devices and is have interactive & easy to use a platform. This app has various features which are nenumerated below:
Real-time Market Data
Very Interactive charts
Multiple marketwatch
Advanced Technical Indicators
Stock Screeners & Heat Maps
Trade in equity, futures & options
Corporate Action of companies
Bulk & Block deals
Options Calculator
Transfer Money in seconds
Though their app has many features and is one solution to all investment needs, it lacks on few grounds such as:
It does not offer investment in IPOs, mutual funds, currency.
You cannot place the order through the chart and also cannot watch the charts in portrait mode.
Thematic investing and Portfolio Stimulation is also not available in the fYERs app.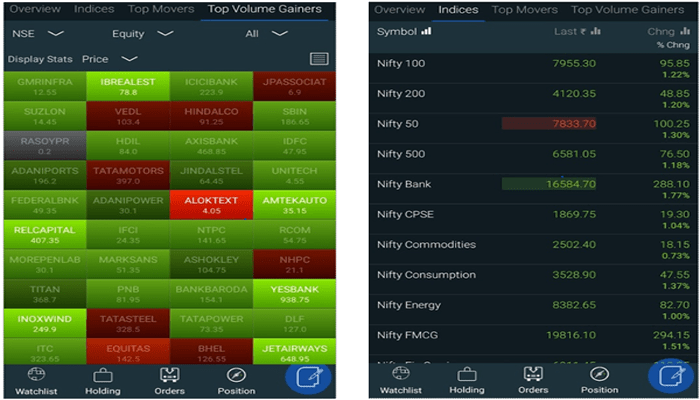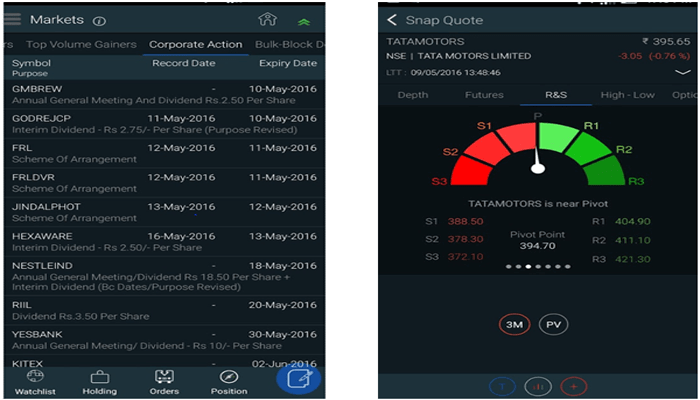 Fyers Special Offer:
Free Equity Delivery Trading and Mutual Funds
Brokerage-free Equity Delivery. Flat Rs 20 per trade for Intraday & F&O.
Brokerage-free Direct Mutual Fund investment.
Trade with one of the best trading platforms in India.
This is a limited-time offer. Open FREE Fyers Account online and start trading today.