Check reviews of other Share brokers
Special Offer:
Pay Rs 899 per month for unlimited trading or flat Rs 15 per Trade + Brokerage-Free Equity Delivery + Lifetime Free AMC Demat Account.
Open FREE Instant Demat Account
and start trading today.
ProStocks Online Trading Platform & Tools
It offers trading platform across devices including install-able desktop software (ProStock Desktop, NOW), HTML based trading platform (ProStock WEB, NOW WEB) and mobile App (ProStock Mobile).
By Trading with Prostock, you can use NSE based trading platform on the app, desktop installable and browser-based.
ProStocks Research and Advice / Trading Tips
Research and Advice / Trading Tips
ProStocks Trading Platform
Trading Platform
ProStock Desktop- ProStock's Terminal Based Trading Platform
In Desktop version you can install the terminal based software and can use any time anywhere provided you have your electronic gadget. It is easy and does not have the hassle of login an log out frequently. This is also available in the mobile version and easy to use for trading on NSE & BSE. Features of the Prostock desktop are the following.
Why ProStock Desktop?
Secured Online Fund Transfer to get real-time benefits Place After Market Orders (AMO).
Advance Ultra-Fast Real-Time Charting for Investor to Professionals.
View position, limits and security holdings.
Secured Online Fund Transfer to get real time benefits.
Monitor multiple scrip for new high, new low, new 52 week high, new 52 week low and many more.
Bulk Trade Watch
ProStocks Web-ProStock's Browser based Trading Platform
Access the markets from anywhere without having to download and install. This is the light and adaptable web based platform which works on any web browser, no need to install or download anything. The web address for this is www.prostocksweb.com.
You can use Prostock's website and login with your user name and password to trade smoothly. You will receive your credentials at the time of the account opening. This site is light and compatible with all the devices and requires adequate speed of internet connection to load.
Why ProStocks Web?
Fully secured and reliable trading gateway with multi-level security check Payment gateway with leading banks.
The webplatform is compaitable and works on any web browser.
You can Get real time quotes and trade without any hassle.
Prostocks web trading portal provides Payment gateway with all leading banks
You can set Email and SMS alerts
Multi-segment and multi-market front end for trading.
ProStock Mobile-ProStock's Mobile Trading App
Secure and real-time access to quotes and trading on your mobile device. The light-weight fully functional trading app is secure, easy to use and compatible with major mobile operating systems. You can trade in NSE/BSE, transfer fund, latest quotes, execute and cancel trades with this App.
Why ProStocks Mobile?
Works across multiple platforms : Android , I-phone and Windows.
Seamless integration with Trader ensures you can track orders and positions on the go.
Get real-time market data at fast speed.
Place market, limit, stop loss, cover, bracket and after-market, day and IOC orders
After Market Order to place trades beyond market hours
Option calculator and many more features
Portfolio tracker
Quick order placement
Access your holdings in demat account
Check available limits and total margin on your account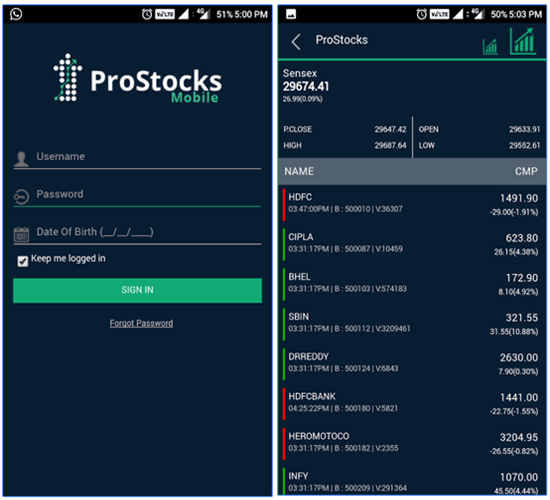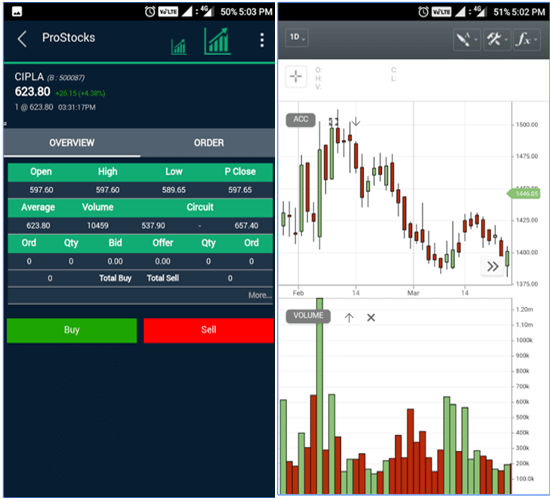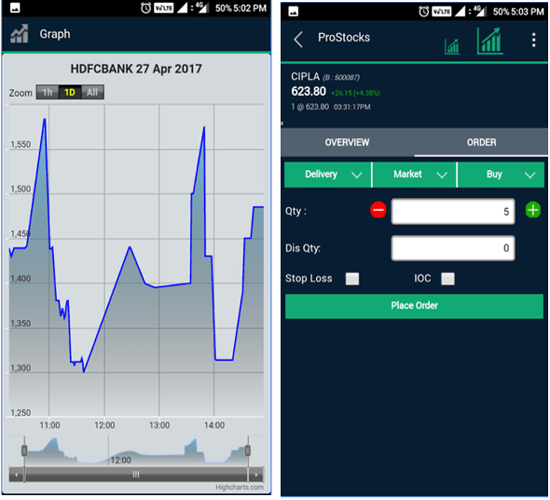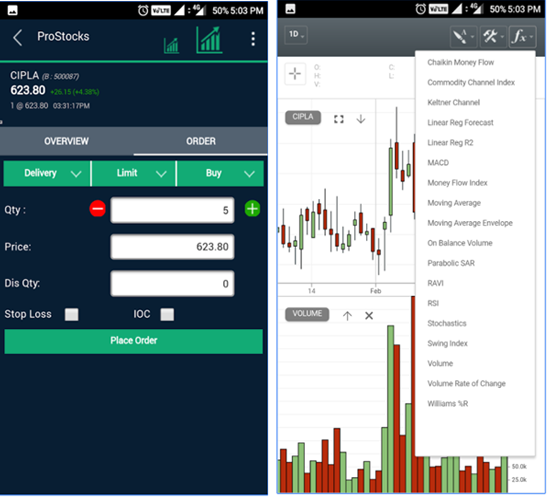 ProStocks Special Offer:
Unlimited Monthly Trading @ Rs 899
Monthly unlimited trading plan @ Rs 899.
Or Rs 0 Eq Delivery Brokerage and Flat Rs 15 per trade for Intraday & F&O +
Lifetime Free AMC Demat Account +
API for algo trading.
This is a limited-time offer. Open FREE Instant Demat Account and start trading today.