Check reviews of other Share brokers
Special Offer:
Pay Rs 15 per executed order, regardless of the size of the trade.
Open Instant Account
online with TradeSmart and start trading today.
Trade Smart's Online Trading Platform & Tools
It offers trading platform across devices including install-able desktop software (NEST, SPIN), HTML based trading platform and mobile App (SINE).
TradeSmart Research and Advice / Trading Tips
Research and Advice / Trading Tips
TradeSmart Trading Platform
Trading Platform
NEST Trader- Trade Smart Terminal Based Trading Platform
Like all other stock broker Trade Smart Online also provide you multiple platforms including terminal based downloadable software for the fast access. NEST trade is the name of their software and you trade across NSE, BSE and MCX frm single window. It allows fast execution of orders with real time monitoring for you to make profitable decision, instantly. It is also available in mobile version.
Why NEST Trader?
Customizable Interface : Every component can be fully customized as per user's requirement. Edit headers, functions, colours as per your specific needs.
Advanced Charting: Multiple types of charts available for technical and fundamental analysis along with different data points on intraday and historical level.
Connectivity: Trade across NSE, BSE and MCX from a single window. Get lightening fast real time quotes.
SINE Web- Trade Smart Browser based Trading Platform
Access the markets from anywhere without having to download and install.The web address for this is www.trade.vnsfin.com.It has good loading speed and user interface. Their website support mobile as well as desktop. No installations needed, you get the liberty of just hopping onto a computer with an internet connection and get started. Particularly useful if you travel a lot and trade light.
Why SINE Web?
Light and adaptable web based platform which works on any web browser.
Get real time quotes and trade hassle free.
SINE Mobile App-Trade Smart Mobile Trading App
Sine mobile application can be used to trade in Cash, Futures and Options, Currency Derivatives and Commodities on all the major exchanges in India (NSE, BSE, MCX).
Sine app gives you access to all the major trading features like: Market scanners, Market Analytics, Market Watch, Buy/Sell, Index Watch, Holdings, Positions, Quotes, Charts, Order History, Top N, Account details.
Trade from anywhere, anytime.
Why SINE Mobile App?
Sine Mobile App works across multiple platforms : Android , I-phone and Windows.
Seamless integration with Trader ensures you can track orders and positions on the go.
Get real-time market data at fast speed.
You Can place orders in NSE Cash, NSE FO, NSE CDS, BSE Cash and MCX
You can place market, limit, stop loss, cover, bracket and after-market, day and IOC orders
Advanced Trading Tools : SINE offers technical indicators like MACD, Moving Avg, RSI, Bollinger bands, Parabolic SAR, etc. It also has advanced snap quote which shows Futures quote, Resistance & Support levels, High-Low for different time intervals, Option chain, Put-Call ratio and much more at a swipe.
You can transfer funds Instantantly through 28 banks
You can place after Market Order to place trades beyond market hours
Sine Mobile App provides Option calculator and many more features
You can track your Portfolio
You can access your holdings in demat account
You can check available limits and total margin on your account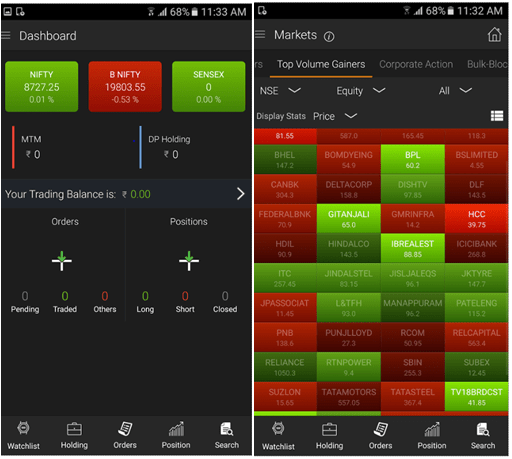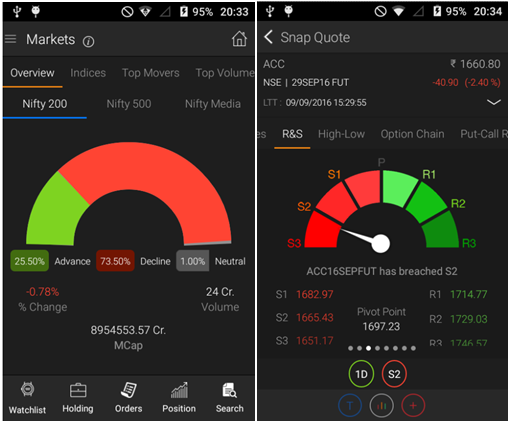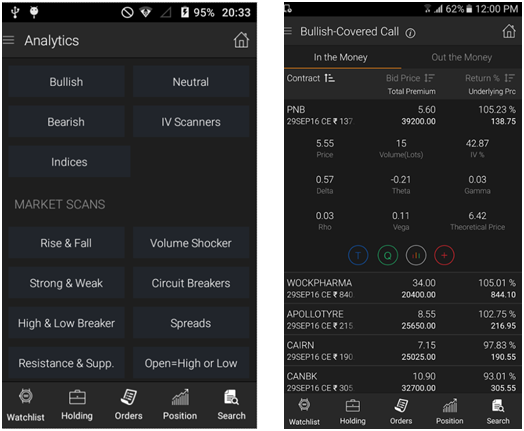 TradeSmart Special Offer:
Flat Rs 15 per trade
Flat Rs 15 per trade across all segments +
Get Margin against your shares +
API for alog trading.
This is a limited-time offer. Open Instant TradeSmart Account online and start trading today.